Benefits of a Flowfold Trailmate Dog leash
Are you a canine owner?  Are you also an outdoor enthusiast?  If you answered yes to those two questions, then this dog leash is perfect for you.  It is called the flowfold Trailmate Dog leash.  Here are a few things that make it great:
Usability
I've had the opportunity to use the leash for the past couple of weeks on dogs of various sizes, ranging from 15 pounds to 55 pounds. The dog leash has consistently performed well on each. For true testing, I have also had various-sized dog walkers test out the leash to see how it holds.  From small kids to full grown adults, this dog leash has proven to work well across the board.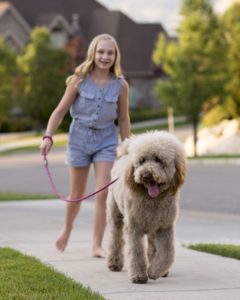 Fabric
The flowfold Trailmate dog leash is made from rock climbing rope, which means the leash is extremely sturdy and durable.  Another added benefit familiar to all rock climbers is that rock climbing rope stretches.  That means that when a load is applied dynamically–like in the case of a fall– to a climbing rope, there is no sudden jerk but instead a prolonged stretch takes place, to allow energy to spread down the rope before reaching the climber.  This same concept applies to the dog leash.  When you quickly need to restrain your dog from an approaching runner or child, you can pull back abruptly without injuring your dog's neck with a sudden jerk as the rope slightly stretches to accommodate that new force.
Another added benefit of having a dog leash made from rock climbing rope is that when the rope gets dirty from taking your dog on adventures like desert hiking, cross country skiing, or coastal beaches, cleaning the leash is simple.  After mixing mild soap and water and applying a scrub brush, any residue embedded in the rope will quickly fall off.  After it dries off, the rope will be as good as new.
Style
I've seen the other canines around recently, and I've paid attention to them.  Their leashes are for the most part boring, simple, and plain.  Sure, they get the job done, but not in style.  When you have this leash on your wrist you feel as if you are wearing a fashion accessory that not only complements your own style but your dog's too.
Others will ask you where you got your rope and what the diameter is!  At least that is what fellow climbers say when you bring a new rope to the crag.
SaveSave
Leave a Comment
About the Contributor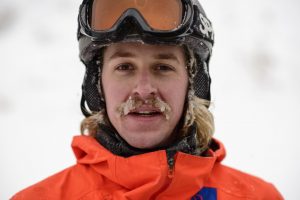 Kiffer Creveling, Photographer
Kiffer Creveling is a PhD student in Mechanical Engineering studying the strength of adhesion between the vitreous and retina of the human eye.  He has been working with the Wasatch Magazine for five years now.   Kiffer's favorite outdoor activity is skiing and snowboarding; whether that is downhill, telemark, snowboarding, or cross country skiing, he just loves the snow.