Everett Ruess: Long Lost in Escalante
One of Utah's greatest mysteries is the sudden disappearance of a young adventurer named Everett Ruess. In the 1930's, Ruess left his home and family after graduating high school to wander alone through the American Southwest. Everett was an explorer, poet, artist, and inspiration who was captivated by the daunting beauty and fury of deserts. He spent many years wandering alone through southern Utah with his two burros, entranced by the looming red rocks and lonely rolling sands. In 1934, at the age of 20, he disappeared into one of Utah's most desolate places, and his fate remains a mystery.
Everett Ruess' story of passion and endurance conjures a sort of internal fire within outdoor adventurers and environmental enthusiasts. People have come to idolize Ruess and look to his life and writings for inspiration. He wrote about everything he experienced with wonder and exhilaration. Although his dreams killed him at a devastatingly young age, it is clear through Ruess' writing that he would not have traded it for a long life of living by the rules. Ruess wrote that he was largely "unsatisfied with life as most people live it. Always [he] wanted to live more intensely and richly."  He never understood how one could "muck and conceal" their true longings and desires.
Ruess was last reported seen in Davis Gulch near Escalante, Utah in 1934.  He was headed to a Native American cliff dwelling and had told his family that he would not be able to communicate with them for the next two months.  After nearly three months with no word, his parents grew suspicious and called in a search party to look for him. Ruess' burros were quickly discovered grazing in a canyon, and it looked as if Everett had left them with an intention to return.  Nearby was a camp where Ruess had stayed, but there was no sign of him or his belongings.
Theories developed as to what had happened to the young drifter.  One school of thought was that Ruess had fallen off a steep ledge, but it proved to hold little validity considering that his body or belongings likely would have been discovered, had this been the case. Others believed he was murdered, which has also been largely discounted because very few people visited the area where he last was, and Ruess posed little threat to people traveling through.  It is, however, possible that a cattle rustler could have killed and disposed of him. Another theory is that Ruess may have left everything behind and stared a new life for himself elsewhere. This theory seems the most improbable of all. To remain hidden from the curious public eye for the next 85 years would have required him to abandon the three things that he loved most: family, art, and exploration.  From Ruess' writings we can gather that he was not the type to carry out his own death. An excerpt from his poetry reads: "Say that I starved; that I was lost and weary; That I was burned and blinded by the desert sun; Footsore, thirsty, sick with strange diseases; Lonely and wet and cold… but that I kept my dream!"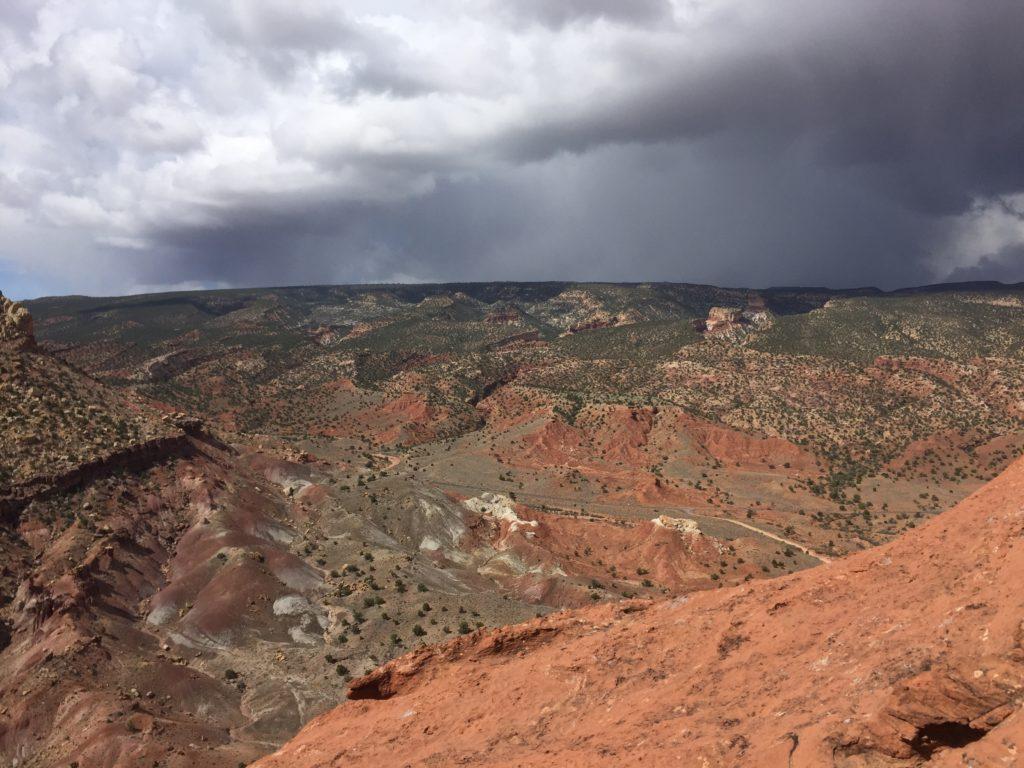 No new leads were discovered concerning Ruess for over 20 years, until 1957.  A group of researchers in Cottonwood Canyon, only 10 miles southwest of Davis Gulch, stumbled upon the remains of camping equipment, including a cup, spoon, fork, canteen, and a box of razor blades from Los Angeles, California, where Everett was born. The items were sent to Everett's mother, but she doubted they belonged to him. Cottonwood Canyon has since been renamed Reflection Canyon, and the suspicious camp found on this day is now buried under the waters of Lake Powell. This seemingly promising find was soon dismissed, and Ruess' disappearance remained a mystery.  
In 2009, researchers at the University of Colorado believed that they had found the remains of Ruess 60 miles from where his burros were discovered. They suspected that the DNA in the uncovered bones matched Ruess'. However, a BLM staffer in Monticello, Utah tracked down Everett's dental records and found that his teeth had gold fillings, which the skull in question lacked.  Deeper DNA analysis followed, and it was discovered that the human remains were not Ruess'. This false lead was the result of eager researchers rushing to get the mystery solved. No hard evidence exists to this day. Even after a staggering 85 years of public interest and private investigations, speculation is all that remains. Ruess claimed that he "shall always be a lone wanderer of the wilderness… and when the time comes to die, [he'd] find the wildest, loneliest, most desolate spot there is."  And that he did.
The story of Everett Ruess is not only a source of devastation, but equally a source of inspiration and hope.  Ruess was a vagabond that captured the enthusiasm of millions with his writing and entrancing art. However, the looming uncertainty of Ruess' death is what intrigues outdoor enthusiasts the most. One day, a small, overseen detail might be discovered that reveals the truth, but for now all that remains of the passionate adventurer are the snippets of his imagination preserved in his creations. Through his poetry and paintings, Ruess lives on.
 "I must pack my short life full of interesting events and creative activity… I intend to do everything possible to broaden my experiences and allow myself to reach the fullest development. Then, and before physical deterioration obtrudes, I shall go on some last wilderness trip, to a place I have known and loved. I shall not return." -Everett Ruess
Gentry Hale ([email protected])
Leave a Comment