Hit The Waves And Try Some Water Sports
Summer is a time for late-night campfires with s'mores, endless hiking and mountain biking trips, and fireworks. But there's one question everyone has to deal with: How do you combat the intense heat? For this, there is nothing better than getting out on the lake and enjoying some refreshing water.
There are many ways to enjoy the waters of Utah this summer, but my favorites are boating and water skiing. If you thoroughly enjoy the thrills of the winter sports in this state, particularly skiing and snowboarding, then you will have an effortless transition from the frozen world to the world of water.
The hardest part about water skiing is getting up. As the boat quickly accelerates, it might be an unfamiliar feeling because you are no longer in control of the forward motion of your body — however, once you discover how to harness the power of the boat, it's just like hitting the slopes.
It will take multiple times being dragged around the lake — and, more often than not, swallowing lake water — until you learn to stand. But don't give up. More importantly, once you finally do get up, don't forget to adjust your body as you start picking up speed.
I remember the first time I went water skiing. When I finally got up, I forgot what I was doing in all the excitement and celebration. I instantly caught an edge and lost my skis as I was dragged behind the boat, still holding on to the rope. Learn from my mistake. Once on your skis and moving along the lake, move in and out of the wake, take wide turns and carve on your edges — figure out what your limits are. Most importantly, have fun with this new sport.
If you figure out quickly that water skiing just isn't for you, give tubing a try. Get ready to hold on for dear life as the boat driver does their best to whip you off. The more people you have on a tube at once, the better. It just makes the experience and memories that much more enjoyable as you try to be the last man standing. Some of my most favorite memories while tubing are seeing my friends taking flight after hitting a huge wave. Make sure you are wearing your life jacket, though, because as the old saying goes, "It's always fun until someone gets hurt."
Living in Salt Lake City, there are several places to go throughout the summer that are really close to home. One of the closest lakes is at East Canyon State Park. It is about a 45-minute drive from the base of Emigration Canyon and over the top of Big Mountain. Although it is a smaller body of water, it is conveniently located.
Another great place to go to is Jordanelle Reservoir, which is about a 30-minute drive from the bottom of Parley's Canyon heading up past Park City on your way toward Heber. If you have a couple days to spend a weekend at a lake, I would recommend going to Lake Powell. There are so many places to explore along the coastline of the lake that you will keep coming back for more. It is truly a beautiful body of water that provides a pleasant change of scenery compared to the other lakes in Utah.
Leave a Comment
About the Contributor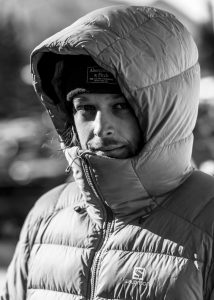 Peter Creveling, Photographer
Peter Creveling is currently a Ph.D. student at the U studying mechanical engineering and has been on the Wasatch team since 2015. His favorite outdoor activities include skiing and rock climbing, and he can be commonly spotted on the slopes of Big and Little Cottonwood Canyon year round