Utah is known for its wide range of hiking opportunities up and down the Wasatch Front, and these don't disappear in the winter months. If anything, the frozen waterfalls and snow-topped pines add even greater beauty to the hikes. Snowshoes help make winter hiking possible, so here are some of our tips for those strapping on snowshoes for the first time.
Prepare for the weather — look up weather conditions in advance. Wear layers that can easily be shed. As you get moving, your body will heat up. I usually bring two light jackets and a wind breaker. I also wear the same snow pants I go skiing in, as well as a good pair of snow boots. Don't forget to bring gloves and a hat. If you don't have snow shoes of your own, you are in luck. Renting gear from Outdoor Adventures is only $15 for the weekend. If you don't have snow boots, it will be an additional $12. However, the total price is about $10 cheaper if you only rent for a single day.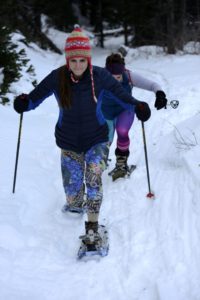 One of my favorite places to go snowshoeing is in Millcreek Canyon, just past where the road is blocked from Nov. 1 to July 1. About halfway up the canyon, the unpaved road is the perfect hike for beginners. The canyon also offers dozens of hikes off the main road ranging from one to three miles and up to 2,000 feet of elevation gain. Another great location to snowshoe is Jeremy Ranch. Fifteen minutes up I-80 from Salt Lake, the Porcupine Creek trail is flat for eight miles.
Photos by Peter Creveling