Opinion: Resilience and Redefining Fun
When was the last time one of your trips went absolutely perfectly? When was the last time nobody forgot something important like a raincoat, headlamp or sleeping bag — and somehow, you even remembered to bring the cooking oil? Or, when was the last time the weather was perfect and the nasty biting bugs left you alone? 
Each trip feels increasingly more perfect to me, in part because I have learned to redefine "perfection." While more experience means I tend to make fewer mistakes — although I forgot a sleeping bag on two consecutive trips last summer — I've also learned to enjoy a good suffer-fest. To quote alpinist Mark Twight, "It doesn't have to be fun to be fun."
Resiliency is another way to describe what Calvin's father (as in Calvin and Hobbes) would describe as "character." For example, "Calvin, go do something you hate! Being miserable builds character!" I'm not suggesting you go out and do something miserable on purpose. Spend enough time outdoors, and you'll be suffering soon enough.
One of my oldest childhood memories is of an ice fishing trip I went on with my dad and grandpa. I was young — maybe four years old. We were out on the frozen lake, and I had one of my first experiences with hypothermia. My family — responsible people — wrapped me in a tarp and sleeping bag, loaded me onto an ice fishing sled and began hauling me back to the car. Trailing a gloved hand in the snow, I sang happy little songs on the way back.
To date, the coldest experience of my life was in a Zion slot canyon in October — after a recent rainstorm. The air was so cold that when we crawled out of the pools, our wetsuits steamed. To give you an idea of how frozen we were, Torin McDonald, my good friend who ski tours and ice climbs, says it's the coldest he's ever been. Despite the temperatures, we were all taken aback by the beauty of the canyon. Even when someone was so cold they needed assistance with locking a screwgate carabiner, we felt incredibly lucky to be in Zion. But please be smarter than we were — we were not prepared for the frigid conditions, and as lucky as we were to be canyoneering, we're even more fortunate to have escaped.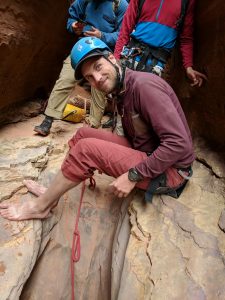 I am not mentioning these stories to showcase how hardcore I am, but to show why this attitude of resiliency is so important to me. Some of my most rewarding trips  — say an 80-mile river trip, floating half and dragging boats for the other half — were suffer-fests. Experiencing the most beautiful and unique parts of the natural world isn't always easy, but for me, it has always been worth the discomfort.
For about a year now, we've been feeling the effects of the COVID-19 pandemic. Barely leaving my apartment for six weeks straight was one of the greatest challenges for me. While depression and occasional anxiety have been part of my life for years, during those six weeks, they became a nearly constant battle. Fortunately, physical struggles in the outdoors helped me survive what was going on in my own mind. I have learned to hold on, be patient, ride it out and understand that situations will improve. As my good friend Patrick Kolbay said during a whitewater training, you have to take things "one wave at a time."
I believe the outdoors are deeply important, perhaps even sacred. Sometimes, the wilderness feels like a second home, if not home itself. And this is where family comes in. A good suffer-fest lets us see our companions at their absolute best and absolute worst, and they see us under the same conditions. Hardship and risk foster trust, reliance and love and bring us not the families we were born into, but the ones we have chosen. 
Being uncomfortable — even miserable — makes us stronger and takes us to places few people experience. For me, it touches and heals my soul in ways nothing else is capable of and reminds me why we do what we do, even when it really, really sucks. Resiliency allows us to have trips where nothing goes right, and we still have a great time.
If you're suffering from mental health problems, please talk to someone. The university offers low-cost counseling services. While it may take time, you can eventually enjoy and struggle in the outdoors again. Take care of yourselves, take care of each other and as my mother frequently reminds me: manage your risks effectively.