The Best Gear You've Never Heard of: Trango BallNutz
October 18, 2021
The Jist
Amongst the most niche pieces of gear on the market, BallNutz meet uneven reviews across the internet. There is a good chance you've never even heard of this gear, so I'll quickly run you through some of the reasons you might want to add them to your Christmas list. The reality is, these pieces of kit are A+ additions to your rack when they fulfill their singular purpose of protecting nearly un-protectable cracks. Otherwise, you'll likely feel they are nothing but unnecessary weight. Fortunately for us Salt Lake natives, Big and Little Cottonwood Canyon provide the exact sort of climbing conditions that allow for these little lifesavers to live up to their purpose. 
The Details
Although they are predominantly used for aid climbing, BallNutz are also extremely useful when free climbing granite routes, where pin scars and thin corner cracks are highly prevalent. They also hold extreme benefits over micro cams in a few different important areas. Most notably, their kN ratings and camming range are the true difference makers. It's these dynamics that set BallNutz up to be a valuable addition to any granite climber's rack.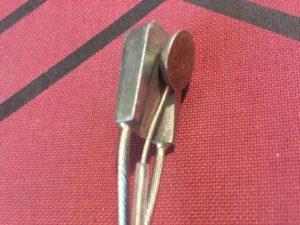 From size one through five, each piece is rated at an impressive 8 kN, exceeding the ratings of all other micro cams on the market. So even when you're above the penny-sized #1, you can trust that a well-placed piece will hold approximately 1,798 pounds of force! I can't guarantee this fact will do much for your mental game, but the truth is that you're as safe there as you would be with a 0.3 Black Diamond cam. The most important thing to consider when using these pieces regards their placement and removal. If you're inexperienced with them, they are likely to get either under or over-cammed, so make sure you get some practice in before the real thing. 
Additionally, sizes range from 0.12 inches to 0.43 inches, while the BD cams' smallest size only goes down to 0.29 inches. While there are certainly thin cracks that could otherwise be protected by micro cams, many pin-scars and seams would require BallNutz to be protected. This size difference seems subtle but is actually huge when embarking upon some multi-pitches throughout LCC or Yosemite.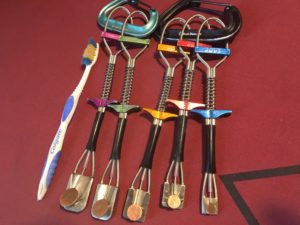 The Final Grade
Overall, given their price ($39.95 each), kN ratings, and unique placement opportunities, I'd recommend all gear collectors to add these pieces to their rack. At the very least, I'd argue that investing in the #1, #2, and #3, is wholly worthwhile for any big wall or aid climbers. BallNutz fill a void in protection that is currently unmet by any other gear on the market.