Type 2 Fun: Ishkabibble Edition
July 19, 2021
Enjoyment of outdoor experiences can generally be classified as Type 1 fun or Type 2 fun. Type 1 fun is when every moment of your experience was fun and enjoyable. Resort skiing or a chill sunny day at a crag can generally be grouped into Type 1 fun. They are enjoyable experiences, but they don't necessarily always provide a means for growth. For me, personally, Type 1 experiences tend to blur together after a while. Type 2 fun may seem like a contradiction. It's an experience where you are miserable in the moment, but upon reflection, you really appreciate the value of that experience and only remember the good, fun parts of it. It's an experience that pushes your physical and mental limits and redefines them for you, even if the process to achieve this growth was miserable.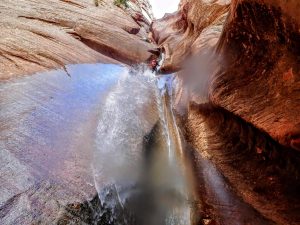 I do really enjoy both Type 1 and Type 2 fun. I think both types of experiences bring fulfillment to my life in different ways. I find that I often do a lot more Type 1 activities when I need a break from school or work, and my primary intention is enjoyment. Type 2 activities are always more objective driven and center on pushing my limits and achieving a more extreme goal. The sense of growth and accomplishment I've felt after completing each of these objectives is unparalleled, but often I have struggled with keeping my mental state positive over the duration of the experience.
In the past, I have experimented with many different techniques to keep myself going during Type 2 experiences. For example, I'll repeatedly sing a song over again in my head or I'll fantasize about watching Netflix in my bed. Honestly, both of these methods have just made that experience harder to get through. However, in the last couple of years, I found a new method that has helped to alleviate the mental aspect of suffer-fests.
When I was a freshman in college, a couple of my friends told me about these magical creatures called ishkabibbles. I like to picture them as pygmy puffs from Harry Potter or like fuzzy pom poms with google eyes. Basically, they are these magical creatures that live under cattle grates. If you drive on a dirt road to get to your trip, you can collect them by opening a door when you pass the cattle grate. If you collect them, they bring good vibes to your trip. There are a couple of basic rules:
You need to return the ishkabibbles to the cattle grate you took them from. If you don't, they will die, which is pretty rude to do.
If you return them to the wrong cattle grate, they will go to war with the other ishkabibbles.
I remember I started using ishkabibbles as a mental toughness strategy when I went on a canyoneering trip Freshman year. It wasn't a canyon we had any beta on because it was on private property, and we all knew it was going to be a big day. We started at 5 in the morning. I remember walking on a decent amount of snow on the approach hike. We started making jokes that the ishkabibbles we collected on the drive up were actually icekabibbles. A couple rappels into the canyon, we came across a 1000 foot waterfall rappel that was one of the most beautiful things I have ever seen. We split the rappel into 5 smaller ones. However, due to some miscommunication on third rappel, we didn't know if the first person to rappel had reached the bottom. The rope went slack, so a second person went over to see what had happened. The rope went slack again, and we couldn't hear anything because of the waterfall. A third person then went over with a promise that he would find out what happened and then ascend the rope and let us know. At this point, I was at the top of this rappel standing in a pothole of water with one other friend. We both started to freak out a little at this point because we were already very behind schedule, hadn't been in contact with the sun in a while, and we were very cold because we could only stand in a pothole of cold water that overlooked a cliff. My hands and feet had both been numb ever since we entered the canyon, and I really had no way to warm them up. So, we started talking about ishkabibbles. We started making jokes like the icekabibbles were keeping us warm and stuff like that. I don't know if doing that helped my friend, but I know thinking about these ridiculous creatures being with us through that endeavor made me feel better.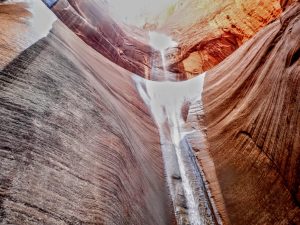 We ended up being stuck in that pothole for around 2 hours. We were freezing and miserable but I think the ishkabibbles alleviated that a little bit. We ended up getting back to our shuttle car at around 2 in the morning. We finished the canyon just when it was getting dark but still had to hike 6 miles to get back to the car. I remember that although I was physically and mentally exhausted on that exit hike, I kept imagining what the ishkabibbles around me were doing. I firmly believe on that trip that ishkabibbles are what pushed me to our shuttle car. That trip is still one of the coolest experiences I've had in college.
I really do enjoy Type 2 fun. I think I've had many amazing moments of personal, physical, and spiritual growth on these trips. However, misery is a large and unavoidable part of these trips. All you can do is figure out the best way to cope with it and get through it. For me, I guess it's ishkabbibles.