A Snowboarder's Prolonged Pandemic Saga- Shredding in a New World
"The snow is sh*tty, but the skiing is amazing," my friend remarks to me with a smile. We're sitting around a table in a crowded ski lodge in Big Sky, Montana — masks firmly on — having just finished our crushed jacket pocket sandwiches. He's pitching me headline ideas for this very story, the details of which I have hardly begun to explain. I laugh and tell him he's not wrong — I actually really liked the thought, but I had planned for the story to center more around the pandemic. He understands. We throw our gear back on and head out toward the lift lines to finish the day on the mountain.
It's a windy day — so windy, in fact, that only a select few chairlifts are allowed to spin. We decide on the massive, eight-seat bubble chair that Big Sky opened a couple of seasons before. We're greeted by a mountain host at the front of the line. "Hey guys, thanks so much for masking up. Have fun out there!" The host smiles as I thank her and strap on my snowboard, sliding in behind the mass of people waiting to ride the chair up. She stops a group behind me, making sure all of them have their buffs over both their noses and mouths before letting them into the line. "It's not a mask if it's not covering your nose too," she shouts into the crowd. We shuffle forward toward the chair, making small talk with a liftie. He tells us he dislocated his shoulder the week before and hopes to ski that weekend to see how it feels. We wish him luck. Further up the line, another liftie asks us if we are comfortable letting people outside of our group onto the same chair as us. His tone is urgent but friendly. The lift line is long and he wants people to move through as quickly as possible. We say we are, and he thanks us and lets us approach the gates in front of the chair. We sit down on the heated seats, closing the bubble over our heads, protecting us from the wind. While the two strangers on the chair with us crack open Budweisers, they ask us about our lives and tell jokes. They're both from Massachusetts — "Massholes" they call each other — having just met the day before. One has a brother who lives in Salt Lake. Ten minutes later we say it was nice meeting them and head our separate ways — this is their last run of the day. There isn't enough snow to ski the trees, so we take off down the groomer, making wide, fast turns.
This trip was a bit of a last-minute effort from some friends of mine who were trying to get out of town for a few days before we had to go back to school to start this spring semester. We had talked about getting out earlier in the season, but a roommate caught COVID, after which it spread to everyone else in the small social bubble that I was a part of. Then, there was a spike in cases in the area of the Colorado ski resort we had planned on going to, so those plans fell out the window. I was left sitting alone in my bedroom — counting down the days until I received negative tests and feeling a bit depressed.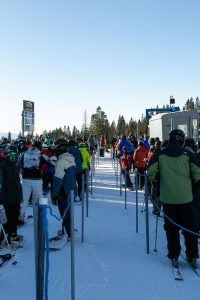 Nevertheless, while making those big turns down that Big Sky groomer, I had all but forgotten about the pandemic. Big Sky, along with every other ski resort, did everything they could to make it feel like any other season. The months and months of work and strategy developed since March 15th, 2020, and the mass adjustments needed to protect their visitors here in 2021, were all seemingly hidden in a series of signs and reminders posted on doors.
March 15th stands out to me as the beginning of the end of my normal college experience. I had just gotten home from a spring break camping trip and had learned that school was being moved fully online. I was pumped and figured I could start planning daily trips to Snowbird. Then Snowbird suspended operations for a week. "No big deal," I thought, "a week isn't that long." A week came, then went, and Snowbird stayed closed.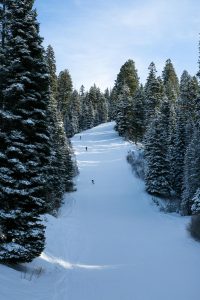 Fast forward a few long, boring months to — let's say around October. The virus was worse than it had ever been, and I spent my days either sleeping through Zoom classes or dragging myself through them. The ski resorts had no real plans to open and the snow was starting to fall. I was getting nervous. No skiing meant no break in the chain of monotony that my pandemic life had settled into, and I wasn't sure if I was prepared to handle that. Then a couple of inches of snow fell in the valley, and I felt the same ingrained excitement I feel every year. I texted my friend, "Wanna ski today?" I stared at my phone for a few minutes, my heart sinking. Then it buzzed — he was down. Any plans at all at this point got me excited, so I threw my snowboard into the back of my car, forgetting nearly everything else, and drove off. We loaded his car and headed up to Alta, where we built a tiny jump under the first snow-making machine we could find. Employees gave us thumbs up as they snowmobiled past. We stayed until sundown, reveling in the snow and socialization and the six-inch jump we rode over and over again. I drove down the canyon that day feeling grateful. Grateful for the community of skiers that did anything they could to get outside and enjoy their sport. This was the same community that hiked up with me under the frozen chairs of Collins following its closure in March, hunting for a bit of powder and sunshine. It's a resilient group, one that will do everything in its power to get a few turns in. Needless to say, driving down the canyon that day, any anxiety I had about the season being put on hold vanished.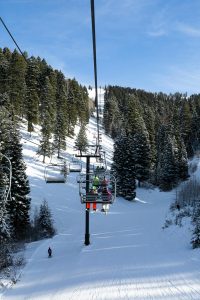 Another month or two later, not much more snow had fallen. People were still climbing in the Cottonwoods and mountain biking on the Shoreline Trail. Meanwhile, the ski resorts were busy, nearly running out of water to make snow with, but they managed to get enough runs covered to announce a couple of opening dates. Finally, seeing the light at the end of the tunnel, I hopped online to see what I had to do to get on a chair on November 30 — opening day at Snowbird. It was surprisingly straightforward: all I had to do was reserve a parking spot. Dreaming of my first real turns since March, I headed over to the reservation page. Booked. For weeks. I shouldn't have been disappointed by this — it was perfectly fitting for 2020, after all. However, it left me alone in my bedroom, contemplating the pandemic life I had thought was ending. November 29 rolled around, and I got a text.
"Wanna ski tomorrow?" It was the same friend who drove me up to Alta to build jumps under snow guns.
"How? There's no parking." I tossed my phone on my bed and went back to my homework. It buzzed a few minutes later.
"Nah, man, I just got a spot." A spike of excitement hit me. Snowbird had thought ahead, releasing only some parking spots at first, then dropping more the night before opening day. Thanking the ski gods, I went to bed happy. I could hardly sleep. 
We got up to the hill early the next morning and waited in a short line at the parking lot entrance to greet the parking pass scanners. My friend held his phone out of the window. The little scanner in the bundled-up employee's hand beeped.
"Sweet, y'all are good to go, thanks for masking up! Have fun out there," they said, with what I was sure was a smile under their mask. We parked, threw our buffs tightly around our faces, threw our jackets and gloves on and trekked out to the lift lines. It felt like every other opening day; music was blasting and shouts of excitement traveled up and down the line. A mountain host patrolled the lines with a sign above her head reading, "Mask Up!" She thanked us as we passed her and approached the front of the line. "Front row!" the liftie called out. We were an avalanche of stoke, flooding through the gates and onto the chair. The season was underway.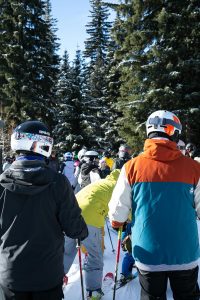 That's really all there is to it. After the months of despair and boredom and the overly dramatic descriptions of fall ski adventures, it only took about five minutes of extra work to get onto the chair. That's where credit is due to the ski resorts, who, as of this writing, have perfectly walked the COVID tightrope between too relaxed and not relaxed enough. From an outside perspective, I know it is perfectly normal for a ski resort to have a few opening day hiccups, but the fact that Snowbird, Alta, Big Sky and every other resort were able to provide the sense of normalcy and enjoyment that seemed to be continuously confiscated throughout the pandemic is noteworthy to me. They've created a new normal that is just as enjoyable as years past. Staying up and refreshing the parking reservation website until a spot opens up now seems like a rite of passage to ski the Bird. To any lifties, gate attendants, mountain hosts and members of our great community who have somehow found their way to the bottom of this piece — thank you. You have helped make my college experience in Utah go back to being a dream: going up to the mountain between classes; procrastinating homework to shred.