Adventurer's Toolkit— Entertainment Edition
February 22, 2021
Even when I'm not outside, chances are, the outdoors are still on my mind. I enjoy seeking forms of entertainment that complement my love of the outdoors, whether it be learning how to take better care of our planet, pondering the relationship between humans and nature or simply stoking my enthusiasm to get back outside. No matter how you like to consume your media – reading, listening or watching – I hope you find something on this list to keep you entertained. I believe there's something here for everyone, from the armchair adventurer to the environmental activist and everyone in between.
Books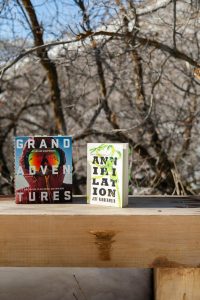 "Grand Adventures" by Alastair Humphreys
If you're anything like me, you may be looking for an excuse to put off your career and run into the wilderness for a year instead. This book can help you do just that. Alastair Humphreys, a 2012 National Geographic Adventurer of the Year, has put together a beautiful book to help us undertake the adventure of a lifetime. Complete with gorgeous photographs from expeditions around the world, Alastair draws from his decades of experience as well as compiled accounts from dozens of other adventurers to provide inspiration and advice. The key takeaway: the adventure of our dreams isn't as out of reach as we think.
"Annihilation" by Jeff VanderMeer
Sometimes science fiction can teach you more about the world than nonfiction ever could. In Jeff Vandermeer's environmental horror novel, we follow the expedition of four women into Area X, a region cut off from the rest of civilization by a mysterious border. What ensues is an eerie account of unsettling discoveries and uncovered secrets. This chilling, thought-provoking book is a fast read that forced me to reevaluate the meanings of humanity and nature, and where the boundary between the two lies.
Podcasts
"The Stokecast"
I have spent many hours in a car going up and down the Cottonwood Canyons. Podcasts are my favorite way to pass the time. In particular, I love listening to "The Stokecast," which never fails to get me excited for whatever adventure I have in store for the day. Each episode is an interview with one of the world's greatest outdoor adventure athletes, including Emily Harrington, Jeremy Jones, Steph Davis, Caroline Gleich and many more of my personal heroes. Hearing how these athletes pursued their passions to create meaningful lives centered around the outdoors always leaves me — as the podcast name suggests — extremely stoked.
"How to Save a Planet"
This is one of my favorite environmental podcasts. It presents the (many) challenges we face in a digestible way and includes calls to action that make solutions feel doable rather than daunting. Whether you're curious about the great debate on nuclear energy, the truth about recycling or the role of racial justice in environmental movements, this podcast is the perfect educational tool and simultaneous source of entertainment.
"For the Wild"
Ready to get philosophical? "For the Wild" is a deep ecology podcast aiming to shift the way we humans understand our place in the universe during the Anthropocene. With a focus on "land-based protection, co-liberation and intersectional storytelling," the ideas presented in this podcast might just transform the way you see the world. If you're ready to tackle topics like climate colonialism, forest symbiosis and reciprocal relationships with our landscapes, I can't recommend this podcast enough.
YouTube Channels
Mediocre Amateur
YouTube has become a treasure trove for free, high-quality adventure entertainment. Outdoor gear companies such as Patagonia, Salomon and REI all produce high-caliber short films featuring impressive expeditions and touching stories, as well as gear reviews and how-tos. However, one of my favorite channels is quite the opposite of this polished professionalism. Mediocre Amateur features a group of guys based in Provo, Utah, who take on projects throughout the West that are, contrary to their name, far from mediocre. From ultra running to ski mountaineering, you get to enjoy all the beauty and awe of their adventures without experiencing the suffer-fest.
The Fifty Project
In Cody Townsend's series, the legendary pro skier aims to climb and ski the fifty classic ski descents of North America, accompanied by Swedish filmmaker Bjarne Salén. The stunning lines and impressive skiing interspersed with discussions on safe decision-making and Townsend's trademark humor make for the ultimate tales of type II fun.
Danny MacAskill
Based in the UK, Danny MacAskill and his mountain bike are a powerful combination. His short film "The Ridge" has over 75 million views, and for good reason. Danny's playful riding style as he navigates urban obstacles and natural wonders is extremely impressive and fun to watch. In addition to his own channel, many of his jaw-dropping stunts can be found on Cut Media.