Adventures to Get Over Your Post-Ski Blues
Even though this year record-breaking storms have been pummeling California endlessly, ski season here in the Wasatch is coming to an end. It's always hard to say goodbye to the best snow on earth, but the 'Satch still provides plenty of opportunities for adventure if you get out and look for it. Here are just a few.
Boulder Little Cottonwood
Switch from stuffing your feet in ski boots, to climbing shoes. Both Cottonwoods boast no shortage of trad, sport, and even top rope routes to work on. However, Little Cottonwood holds the crown when it comes to bouldering. Follow the road up the canyon for about 1.3 miles before reaching a parking turnout on your left to reach Gates Bouldering. Most of the routes are just a short walk from the car. If you're not a serious climber, then bouldering is a great place to start. Check out Mountain Project to find a few problems for your skill level. Plus, Outdoor Adventures rents crash pads for $6 a day.
Longboard Provo Canyon
Provo Canyon is the Goldilocks of roads to longboard. It's mellow enough to keep control the whole way down, but steep enough to keep you going. The best way to do it is to set up a car shuttle. Park one down canyon at Nuns Park and pile into the other to shuttle up to Vivian Park. Hop out and enjoy the 25-minute coast back down to the bottom car. Repeat if desired. Beware that there is a 15 mph speed limit for all riders. Local authorities have considered banning boarding altogether here from the number of people breaking this, so please keep it in control.
Shoot the Tube
Nearly every Salt Laker drove over this adventure all winter long during their hurried dashes to catch some pow at the resorts. Located literally underneath I-215, Shoot the Tube offers an adult version of those classic, inflatable water slides. Finding it is not hard, just head down Foothill until you can see Suicide Rock (the one off to the left covered in graffiti). The tube starts in the bottom of that little canyon. Grab some inflatable tubes, a GoPro, and a couple friends to welcome in the hot desert summer. Be careful to pay attention to water levels.

Climb the Pfeifferhorn
In winter, the Pfeifferhorn (known as The Little Matterhorn), offers one of the best technical mountaineering experiences in the Wasatch. Most of us do not have the skills, gear, or know-how to not end up swept away in an avalanche. That's why summer is the perfect time to tackle this most iconic peak. Drive your car up to White Pine Trailhead in Little Cottonwood Canyon and enjoy the climb. Plenty of people tackle the peak in a single day, an out and back trip of about nine miles, but you can also camp at Red Pine Lake for a more mellow day. Either way, the view from the ridge is amazing.
Photos courtesy of Clark Aergerter, clark_aergerter_images
Leave a Comment
About the Contributor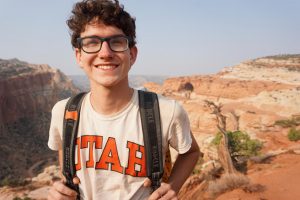 Nick Halberg, Editor
Nick is a senior studying philosophy and economics. He started with Wasatch Mag three years ago, and now is happy to be co-leading the publication as the Print Editor. He is passionate about environmental issues, especially ones regarding resource use. On weekends, he likes to explore new places in the desert.