#AltPoliticalActivism, Outdoor Industry Joins the Political Fight for Public Lands
The border between Zion National Park and Springdale, UT, separates more than just federal and private sectors. It draws the line between the outdoors and the outdoor industry. All along the main road in Springdale companies sit, drawing their business from the millions of visitors who flock to Zion every month. Here you can buy food, there you can rent gear, and over here you can get a tour guide.
Even away from national parks, companies produce and sell huge amounts of gear and apparel to meet the demands of an increasingly outdoorsy population. The outdoor industry is a massive entity driving around $646 billion in consumer spending, employing more Americans than the finance and insurance industry (6.1 million compared to 5.8 million) and growing five percent a year on average. However, it doesn't matter if that company is located in New Jersey or New Mexico, both rely on a central asset: the outdoors.
When this comes under attack, so does the livelihood of every outdoor company. Instead of sitting idly by, many companies have taken action against environmentally destructive policies and campaigned for legislation to protect natural areas. Lately, this political activism is on the rise. More and more companies are feeling the urge to speak up, and still more are acting on that urge.
Just a few weeks ago, more than 100 of the industry's biggest names committed to fighting for public lands together, signing a "Protect Our Public Lands" petition. The North Face, Patagonia, REI, and the Outdoor Industry created and signed it, and many others issued statements calling for governments (both state and federal) to recognize the cultural and economic significance of wild areas and favor legislation supporting them.
In the past, companies in the industry did not directly unite like this. In establishing Bears Ears National Monument, for example, Patagonia worked separately from other companies to run their campaign. Environmental director Rob Hunter explains how they "used all [their] modes of communication to reach [their] customers" and inform them about the need to conserve Bears Ears. They also shot a movie, "Defined by the Line", starring climber and conservationist Josh Ewing with the aim of "combining our sport interest, in this case climbing, with our conservation interest, in this case public land protection." No doubt, both these efforts helped push Bears Ears into the eyes of a much larger audience, securing its protection as a national monument.
Now, companies are combining forces and ramping up their political engagement. Those who signed the "Protect Our Public Lands" petition called for the Utah state government to stop their efforts to privatize Bears Ears. Utah leadership is preparing to sue the federal government to remove the designation — which they call a gross abuse of power-, and place the land under the state control.
The "Protect Our Public Lands" petition best sums up worries of many outdoor companies when it says that if public lands are given to states they "might sell them to the highest bidder." It again summarizes the general consensus of the industry with the words "public lands should remain in public hands." The Utah have government has not heard these worries, despite the use of previously successful tactics like petitions and social campaigns, which were both used to establish Bears Ears as a national monument. A more aggressive form of activism is needed, and a few companies are answering the call.
Founder and former Black Diamond CEO Peter Metcalf issued an op-ed in The Salt Lake Tribune calling for Outdoor Retailer (OR), the biannual outdoor industry trade show to "leave the state in disgust" if changes are not made. Shortly after, Yvon Chouinard, founder of Patagonia, echoed Metcalf's statements and threatened that, "Patagonia's choice to return for future shows will depend on the Governor's actions." Patagonia's current CEO, Rose Marcario, stands with the founder's words.
While the current Black Diamond CEO is not planning on leaving, Patagonia is inspiring others to follow their lead. Twenty years ago, Metcalf organized the effort to relocate OR and, with one of the largest outdoor companies backing him, the odds are good it'll happen. The economic ramifications for Utah will not be light. Each year, OR brings in about $20 million in direct consumer spending. More importantly, it marks Salt Lake City as the outdoor industry's home base. Losing this could seriously deteriorate the $12 billion outdoor industry residing in Utah. Essentially, OR provides a lot of leverage for the industry's fight.
This kind of ramped up action is indicative of the way companies are getting involved politically today, and Twitter has become their soap boxes. Any political developments contrary to the pro-environment beliefs of these corporations is sure to provoke a few negative tweets. The North Face, for example, tweeted about the protection of public lands using "#ProtectOurPublicLands" with a link to their statement. They even took a stance on the Women's Marches, tweeting "We stand with the incredible women on our team and all over the world marching for equality today." Chris Steinkamp, executive director of Protect our Winters (POW), views Twitter as another means of political activism. His initiative, as stated on the organization's website, is aimed at "mobilizing the outdoor sports community against climate change." His biggest target as of late? President Trump, who himself denies the existence of climate change. Frustrated that traditional petitioning methods weren't working, Steinkamp decided to "go after him on Twitter." POW's "Twitter Blizzard" inspired over 5,000 tweets at the then president elect to urge him to maintain the Paris Climate Agreement. A quick scroll through POW's feed today will show similar attempts at smaller politicians to address climate change in their decisions.
POW is also launching a CEO Alliance this year, which will connect CEOs from companies who want to do more to make a difference but aren't sure how. "Businesses are now understanding that it is their responsibility to speak out," Steinkamp says. "It's one thing to get a company to sign a petition, but getting a CEO to stand up, it personalizes it and there is more commitment."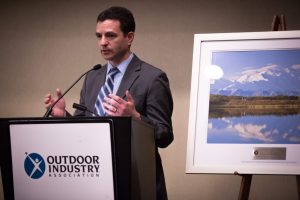 The group doing perhaps the most work politically is the Outdoor Industry Association (OIA). Unlike most members of the industry, OIA is not a traditional company. They don't sell goods or market experiences, rather they advocate for the betterment of the industry as a whole. They are the closest thing to an industry-wide lobbyist group the outdoors have.
Amy Roberts, Executive Director of the OIA, says their main job is to, "[bring] together the collective voice of the industry so we can achieve more as a unified industry and have a larger voice than if individual companies chart their own course." Their very existence is a testament to the increased political activism within the industry. They have an office and permanent staff in our nation's capital and hold an annual Capitol Summit event with leaders of the industry in D.C.
"We have seen threats to public lands in the last few years, and we've definitely seen efforts by some leadership in Congress to suggest that we should sell them off," she says. As the threat increases, more and more companies are willing to stand up.
Even smaller, local companies are finding ways to get involved. While most cannot run major campaigns they can make significant differences in their communities. Snowbird Ski Resort, for example, recently hired an environmental director, who helped the resort launch a carpool incentive program called RIDE. By rewarding those who carpool or take public transportation, they are taking a stance to fight against the chronic winter inversion. The flame under these companies is partly what's going on in Washington, but also because of their customers' reactions to it.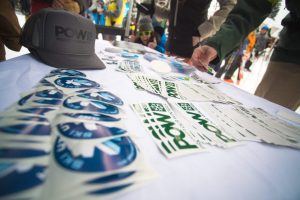 "People are understanding millennials and understanding what makes them tick," Steinkamp says. "We are speaking to 35-year-old skiers and snowboarders, and those guys care. They want the brands they spend their money on to care, too."
Mass social campaigns, films, petitions, and a unique utilization of social media- all organized by ski bum, tree hugger, and dirt bag-founded companies — have given power back to these people. They are fighting, harder than ever, to protect the places that define themselves and the nation as a whole. With an industry almost twice the size of the oil and gas industry backing them, it's fair to say they've got a fighting chance.
Leave a Comment
About the Contributor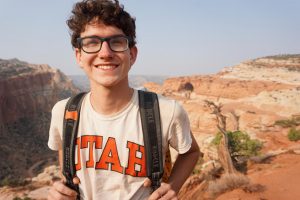 Nick Halberg, Editor
Nick is a senior studying philosophy and economics. He started with Wasatch Mag three years ago, and now is happy to be co-leading the publication as the Print Editor. He is passionate about environmental issues, especially ones regarding resource use. On weekends, he likes to explore new places in the desert.