Another Plea for Safe Practice in the Backcountry
The 2020-2021 Winter season began in the midst of a pandemic. More than ever, Wasatch resorts emphasized insurance plans for their season passes. Resort goers enjoy their days, but have become accustomed to the possibility of an unanticipated shutdown. Across all areas of outdoor recreation, retailers have seen a spike in sales. With the winter, backcountry skiing and snowboarding gear has seen a significant increase in popularity. More people have turned to the backcountry as a way to get out of their homes and remain socially distanced. Resorts have all taken measures to prevent the spread of the virus, such as limited parking or same-car-same-chair policies, and all of them strictly enforce proper use of face masks. Whether to avoid the virus itself or the complications it inspires, backcountry traffic has increased in Utah. In an effort to keep themselves safe from the virus, new backcountry riders may have stumbled into something just as dangerous: avalanches.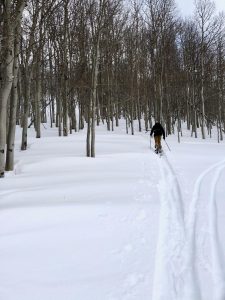 In light of the recent avalanche tragedy in Mill Creek Canyon, which carried seven skiers and killed four, I was curious to investigate whether the increased backcountry use this season had had a proportionate effect on the number of accidents and fatalities. The Utah Avalanche Center (UAC) keeps records of past seasons available to the public on their website, and my search revealed exactly what I was afraid it would. Over the last five years (since 2016), there have been seven total avalanche fatalities. In 2021 alone, there have been six in just the first two months. While we can't confidently say this is due to behaviors resulting from the pandemic, such as greater backcountry usage or higher numbers of less experienced backcountry riders, it is a concerning distribution of incidents.
We do, however, also have to account for the unique difficulty and danger brought by this season's snowpack. For the last several weeks, the UAC forecast has warned about a persistent weak layer that continually gets buried deeper with each storm. As more snow gathers on top of it, slabs gain the potential to be unsurvivable due to their size. It's a variety of factors influencing the number of fatalities each year, and sadly, this year, we have seen a relatively large number already. Our thoughts go to those affected by these catastrophic events.
Let these scary statistics be a reminder that avalanche injuries and fatalities are almost always avoidable. In order to stay safe in the backcountry and prevent further incidents this season, everyone who steps into unmitigated terrain needs to have the gear and the knowledge to travel through that terrain. We all (hopefully) take the time to sanitize and protect ourselves from Covid-19. We learn how it spreads and how to avoid it. We should do the same against avalanches. Beacons, probes, and shovels are essential. Remember that this gear will not prevent or repel avalanches, but it will provide the highest chance of survival, should the worst happen. Remember also that riding slopes with an angle of less than 30º reduces the risk of fatal slides but can still provide a fun day in the mountains. Make sure to ride with people you trust, and that you can trust yourself. Even one avalanche fatality is too many. Let's all commit to stopping the pattern early.