Artist Feature: Claire Giordano
Ten years ago, Claire Giordano was on an Inspiring Girls Expedition trip to explore and study Mount Baker's glaciers when her instructor taught the group to create fast watercolor sketches of their observations. "Creating art helped me understand and connect emotionally to the melting of the glacier in front of us. Suddenly, climate change was no longer an abstract concept. It was here and affecting a landscape I cared about." That trip catalyzed her artistic focus, which combines scientists' observations and works with her own experiences of changing landscapes. Giordano said, "I aim to be a voice for wild places, and I hope that my paintings might inspire others to be curious about science and to go outside and make their own personal observations of what is happening to our environment because that is the foundation of environmental stewardship — when we feel connected to something and are spurred to act on its behalf."
Giordano is a Pacific Northwest-based artist and writer living near Seattle in the foothills of the Cascade Mountains, but her art practice has given her the opportunity to travel to incredible places as an artist in residence. Last year she spent a month in Chamonix, France, as well as traveling through Greenland with Seabourn Cruises. Though she has recently been experimenting with acrylic paintings, watercolor is her primary and favorite medium – it's inherently portable, making it easy to take the supplies on long hikes, backpacking trips and out into wilderness areas. Giordano works en plein air — painting outdoors — as much as possible during warmer weather, and because watercolor is such a sensitive medium, many of her pieces reflect the spaces they were painted in. "Every piece I create outside is visibly shaped by the environment around me," Giordano said. "From white splotches caused by raindrops to amazing blooms of paint arising from a hot desert sun, watercolor is uniquely influenced by the surrounding conditions." Her favorite paintings are made during backpacking trips because they incorporate hours of observations and memories made on-trail, and because "I literally carry them for miles with the rest of my essential gear," Giordano said.
When it comes to supplies outside, the weight, bulk and necessity of an item all play a role in what to bring, and Giordano has her portable outdoor studio down to a science. "I carry an assortment of colors, but I usually focus each painting with a limited palette of 3-5 pigments." She has used the Art Toolkit Pocket Palate for over a decade, paired with a waterbrush — a paintbrush with a hollow water-filled handle — or a round synthetic brush, a re-usable blue shop towel, a pencil, one waterproof pen, an old mint tin for water, a chunk of eraser cut in pieces to save weight and loose sheets of watercolor paper. For those looking to paint outside, Giordano makes sure to advise, "Please follow good Leave no Trace practices. Always pack out everything that came with you, and if you are traveling in sensitive ecosystems or research areas, I recommend hiking your paint water out with you, too!"
Here is where you can find her work in art, design, science, and writing:
Website: www.claireswanderings.com
Instagram: @claireswanderings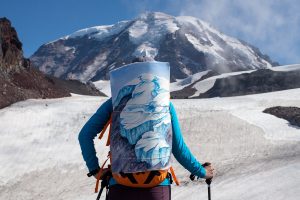 About the Writer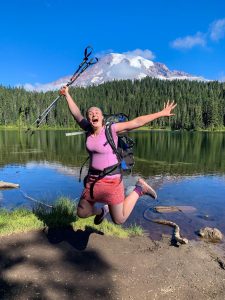 Nola Peshkin, Writer
Nola is a 1st year master's student in English Literary and Cultural Studies. She loves being outside because she loves challenging myself, feeling connected to her body, and appreciating the natural beauty that surrounds us! She also likes working, learning, and teaching in outdoor spaces because sharing knowledge and experience is so powerful, and helps spread accessibility to these spaces.
She joined Wasatch because she finds it easiest to articulate why outdoor experiences are so powerful through writing, and she hopes to inspire others to get outside, get out of their comfort zone, and find out what they feel connected to in the environment. Those who find connection to the outdoors are so much more likely to fight to protect it.