Artist Feature: Katie Reim
Outdoor artist Katie Reim likes to compare painting to endurance running — "Sometimes you just lose yourself in it and time just disappears. Both can be fun and boring. Frustrating and rewarding. Exhausting and rejuvenating. Since I'm painting what I love about the outdoors, it always connects me to the feeling I get when I'm actually there."
Reim begins a work of art with a vintage map which she digitally alters, prints, and then uses as the base for ink pen linework and watered-down acrylic paints. Her style combines small elements such as grass and wildflowers with the vastness of mountains and wild landscapes to create stunning works that capture depth, detail, and texture. "When I'm out on the trails, I tend to get just as excited about looking out on incredible views as I do spotting the unique or new-to-me colors and shapes on the ground," she said. "I love how the topography maps are like fingerprints for nature. The way they capture a different perspective on the natural formations than we see and move over out in the wild in such a beautiful and mesmerizing pattern always fascinates me."
After earning her degree in illustration at the University of Delaware in 2004, Reim felt lost and overwhelmed when trying to land jobs. "I moved to Philadelphia, PA, waited tables, and took whatever art jobs I could get. Most of them were no fun and paid terribly. Over the next few years, a chronic mystery illness took over my life, and I was just doing what I could to get by while trying to find a diagnosis and hopefully some relief." In 2009, Reim had brainstem decompression surgery for Chiari Malformation which opened a new chapter in her life. This new chapter began as she opened an Etsy shop to sell hair accessories, called Cultivar, which turned into a 9-year journey that she called "accidental, totally unexpected, and mostly awesome." While working on this business, she fell in love with running ultramarathons and moved to Portland, Oregon in 2014 to be closer to more trails and mountains.
After settling into life in Oregon, Reim was beginning to feel less inspired by Cultivar. "I knew it was time to move on. What I really wanted was to get back to painting, so creating what I was most passionate about came naturally. I fell in love with the topography maps I would carry in the front pocket of my pack on my trail runs. Those interesting maps and amazing PNW views came together to start Final Switchback," Reim said.
Now, after years of loving trail running, a lingering injury has forced Reim to slow down and reevaluate what it means for her to be connected with the outdoors. "Hiking and painting the places I love most has really helped me cope with the loss of ultra-running." She currently works out of her garage-turned-studio with her husband, Brian, and their mystery mix puppy, Silvie —  named after Silver Star Mountain in Washington. Her favorite part of being an outdoor artist is having an excuse to go on "research missions" and inspiration trips — "I never stop appreciating being able to skip work and head to the mountains whenever the urge hits and having it feel totally justified."
Find and support Katie at these places below:
Final Switchback by Katie Jeanne Reim
Website: finalswitchback.com
Instagram: @final_switchback
Etsy shop: FinalSwitchback
About the Writer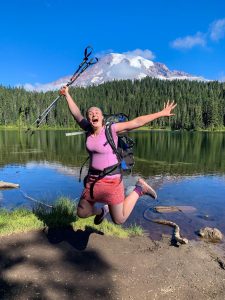 Nola Peshkin, Writer
Nola is a 1st year master's student in English Literary and Cultural Studies. She loves being outside because she loves challenging myself, feeling connected...