Artist Feature: Louisa Palmer
At just 22-years-old, artist Louisa Palmer doles out sage life lessons like someone three times her age: "Dreams don't have to stay fantasies in your head while you sit at your desk during a nine to five work week. They take commitment and dedication. But making silly pipe dreams come true will make you happy for the rest of your life, trust me." Though she's also quick to warn that we should probably "be wary about taking life advice from a young ski bum artist! We might only partially know what we're talking about, but we say it with confidence."
In Palmer's case though, the unrelenting pursuit of her artistic dreams has certainly panned out well. After growing up on the East Coast and dreaming about big mountains, valleys, and vast expanses of open terrain, exploring those landscapes through art gave her an escape from, as she says, "the monotony of suburban home life. After a backpacking trip out west when I was 16, I knew my heart belonged among big giants and scraggly ridges." Palmer took art classes in high school, and after moving to Colorado for college started to give away paintings to family and friends who asked, until she started to realize the immense value in both her time and artistic abilities. "Since I transitioned to selling my paintings, about three years ago, I've been able to support my outdoor adventures and lifestyle through my art income. Just last summer I was able to fund several road trips throughout the west from what I've made from my paintings. It's a glorious feeling to have people admire your creations and want to spend their hard-earned money on them."
As someone who is entirely self-taught, her techniques may not be traditional, but the style and aesthetic are entirely her own. "My favorite part of creating art focused on the natural world is adding a whimsical flair of colors you wouldn't expect in a mountain landscape, like bright pink or lavender," she says. Palmer works primarily with acrylic paint, but also enjoys experimenting with pen and watercolors, especially when she has limited space while traveling, or in the backcountry. And in her case, limited space is often the name of the game as she splits time between Summit County Colorado and living somewhat nomadically in the back of her car, loving dubbed the adventure mobile which, "allows me to bring my belongings and art supplies to supreme locations. My studio is always changing – sometimes I'm working from a friend's living room, other times I have my easel set up mountainside. At this point in my life, I'm really craving adventure, and always seeking the next source of inspiration."
But inspiration isn't always linear, and the stretches of time in which Palmer is unable to get outside often lead to bouts of creator's block, until her next uphill sweat session. "Art is one of the main ways that I connect with the outdoors," says Palmer, "Painting makes me look closer at the surrounding landscape and observe it with more of my sense and a more open mind. Taking in little things like the way the light is changing, cloud movements, or the speed and direction of the wind, are all critical in creating a piece that best replicates the environment." These days, Louisa spends time working outside, as well as creating stickers, hand-painted hats, original work, commissions, and beginning to dabble in murals. You can find her work and support her here:
Instagram: @louisapalmer.art
Email: [email protected]
Website: https://louisampalmer.wixsite.com/website
About the Writer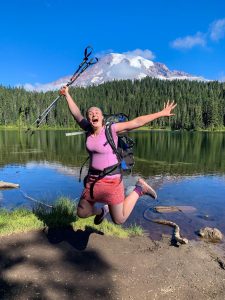 Nola Peshkin, Writer
Nola is a 1st year master's student in English Literary and Cultural Studies. She loves being outside because she loves challenging myself, feeling connected...