Back to Basics
Back-coun-try ski-ing: (adjective) A. the kind of skiing where you don't have to keep behind ropes or bounds of the resort; B. the kind of skiing where you don't have to wait in line for a chair to get up the mountain; C. the kind of skiing where you can get some of the longest powder runs of your life, repeatedly. Most importantly, backcountry skiing is defined by high risk for a high reward. The avalanche control work that keeps resort skiing safe isn't repeated to the same extent in the backcountry, meaning you need to go in prepared for worst case scenario.
The best way to familiarize yourself with backcountry skiing is to take a class. You'll learn how to read terrain, understand the basics of snow mechanics, and recognize the warning signs nature gives you. Snow is complex — but it does have characteristic patterns. These classes teach you how to recognize these patterns and know when a given snowpack is stable or not. The Utah Avalanche Center and the University of Utah both offer classes, and workshops take place frequently around the valley.
For gear, renting is your best option when breaking into the sport. There is no need to get top-of-the-line skis with the lightest boot combined with the thinnest touring pants possible: yet. You can find cheap gear online, but the most essential equipment is (hopefully) not for purchase: a touring partner. Although they may cost you a burger or drink to convince them to go with a noob, it's worth it if they save your life, or vice versa. Other essentials include a beacon, shovel, and a probe. In the event of an avalanche these are your first line of defense for survival. If you get caught in an avalanche, you will appreciate your touring partner being equipped to dig you out. Avalanche airbag backpacks are also becoming a common part of the avalanche safety set. These packs deploy when you pull a lever, helping to keep you toward the surface of the snow.
With the instruction and the gear, you'll need a place to go. Step one is always to check the avalanche report on the Utah Avalanche Center's website to see current danger ratings, recent avalanche activity, and what kind of terrain to look out for based on weather patterns. For your first couple times out in the backcountry, seek low angle terrain in Big and Little Cottonwood canyons, such as Grizzly Gulch or Mill D. Once you get there, it never hurts to dig a pit to evaluate the snow. It's a lot of work, but carving your own line down powder no one has touched all season is worth every step of preparation and uphill skiing.
Leave a Comment
About the Contributor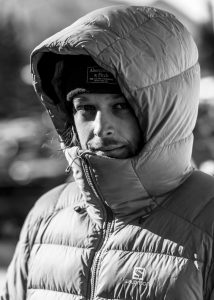 Peter Creveling, Photographer
Peter Creveling is currently a Ph.D. student at the U studying mechanical engineering and has been on the Wasatch team since 2015. His favorite outdoor activities include skiing and rock climbing, and he can be commonly spotted on the slopes of Big and Little Cottonwood Canyon year round