Backcountry Eats
Through several years of outdoor eating and many trials and tribulations, I have finally perfected my personal backcountry menu. Below is a compiled list of my favorite lightweight meals to eat on overnight trips. Of course, every person's tastes and preferences are unique, but exposure to someone else's stab at backcountry eating might inspire your own recipe-making. 
Breakfast
For breakfast, I typically go with the two-packet-instant-oatmeal classic. I buy Quaker maple brown sugar or variety packs. I like to spice up my breakfast with fresh fruit — usually an apple — if it's the first morning of the trip. I often also add some combination of peanut butter, Nutella, raisins, and walnuts. If I have unflavored oatmeal, I'll add brown sugar and cinnamon, which I carry in small Ziploc bags. Oatmeal alone won't properly fuel me for a long day of adventure; the toppings provide the sustenance. Other topping ideas include chia seeds, coconut flakes, banana chips, and cranberries. 
Lunch
I have two categories of backcountry lunch meals: "The Casual" and "The Gourmet." If I'm on a time or financial budget, I'll usually just pull together what I already have at home — typically some tortillas, peanut butter, and jelly. This is essentially a lightweight, more portable version of a PB&J sandwich. A slight upgrade is a hummus and cheese tortilla wrap. I'll pack the individual Sabra hummus cups and an eight-ounce block of Tillamook cheese (I prefer sharp cheddar). Sometimes I'll take a bite of my cheese block at random points on a trip — it's calorie-dense, which makes for the perfect filler food. I've seen my non-vegetarian friends add a StarKist tuna packet to their tortilla wrap — one of my friends swears by the lemon pepper flavor. On certain occasions, I have indulged in a fancier lunch option — "The Gourmet." My group will divvy up crackers, cheese, and summer sausages. This makes for a pleasant meal, but it can take up space and the crackers put you at risk of a crumby surprise. 
Dinner
I have two go-to dinners. The first is what I've learned to call a "Ramen Bomb." It consists of three simple ingredients: a three-ounce ramen packet (I enjoy the one with soy sauce flavoring), cheese (the cheese block sure does come in handy), and a packet of instant roasted garlic-flavored mashed potatoes, which can easily provide for multiple people. All you have to do is combine these ingredients and add hot water. It may not sound appetizing now, but after a long day, this meal hits the spot. It's simple, quick, and filling. Another one of my favorites is pesto couscous. I get the Near East toasted pine nut-flavored box and Knorr's pesto sauce mix. This recipe requires that you bring a pot and add the couscous to the pot with boiling water. I usually bring along a small container of olive oil and dehydrated vegetables to add as well. 
Snacks and drinks
My favorite snacks include Cliff bars, trail mix, dried mangos, and Blue Diamond salt and vinegar almonds. Along with my breakfast, I make mochas using hot chocolate packets and Starbucks Pike Place medium roast instant coffee packets. I also bring lemon-lime Gatorade mix so I can add extra electrolytes to my water throughout the day. 
These are just a few of many possibilities for eating in the backcountry. As a college student, it's hard to find the time to prepare complex meals, which is why I constantly fall back on all the recipes listed above. With that being said, you can spice up practically anything by adding dried fruits, vegetables, or by literally adding extra spices. So set up your stove and start cooking!
Leave a Comment
About the Contributors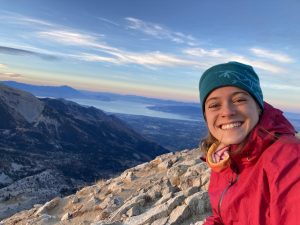 Sofia Sant'Anna Skites, Writer
Sofia is studying modern dance and English and is completing her final semester at the U. After serving as co-editor of Wasatch for a year, she is excited to return to writing. Sofia enjoys connecting with natural landscapes via a multitude of outdoor activities and always in good company. She strives to spread her love for the outdoors and to make these spaces more inclusive and welcoming of all people.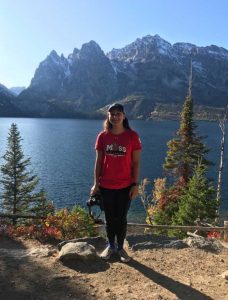 Abby Blackett, Photographer
Abby Blackett is in her third year at the U. She is majoring in communication and doing a minor in digital photography. One of the things she is most passionate about is the outdoors, and capturing the beauty through her camera.