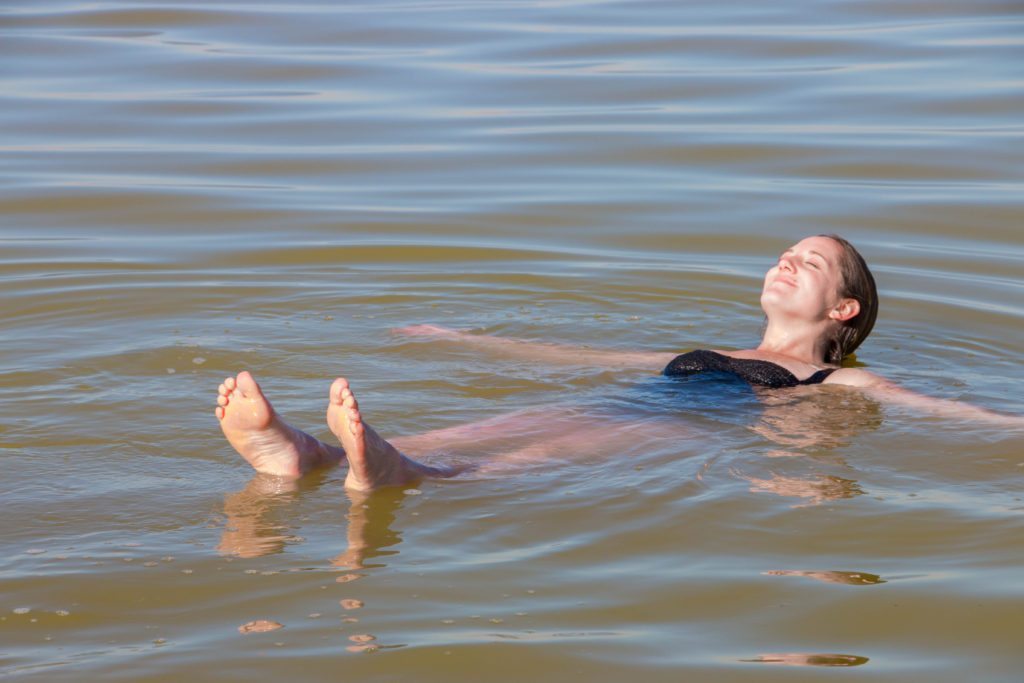 The Great Salt Lake: the largest lake in the Great Basin, the namesake of Salt Lake City, and the body of water everyone ignores just northwest of town. In the summer, the lake reeks of rotting brine shrimp carcasses. In the winter it just sits there, frigid, while everyone is preoccupied with the more enticing skiing nearby. Sketchy chemical plants and refineries appear to drain into the reservoir. Plus, it's really salty — five times saltier than the ocean.
Perfect conditions for a swim.
It seems like very few people from Utah have swum in the Salt Lake and/or have no desire to. I embarked on a personal quest for answers as to why this is the case. I approached some friends and asked if they had been in the lake before, receiving looks of confusion in return. Swimming in the lake was heresy to them; the in-staters had never even considered it. When I asked if they wanted to join me in my baptismal dip to find out what we could be missing, I was greeted with a more alarmed reaction of repulsion: "You're going to swim in the Salt Lake?! That cesspool? Ew!" These responses only ignited my fire to give it a try. After this investigation, the only real option that remained to understand why it seems nobody swims in the Salt Lake was to jump in it myself. The only never-before-swam-in-the-Salt-Lake Utahn willing to come along was Wasatch editor Carolyn Webber. We headed out to Great Salt Lake State Park in the afternoon on a Thursday after class.
Arriving at the beach, we were initially discouraged by the sand reeking of a sulfuric scent and the refinery smokestack towering above acting as a likely suspect. But we pushed on, and the lake itself wasn't too smelly. The only possible gross deterrents were the expected foam and a few live brine shrimp.
Finally on the shore, it was the moment of truth. We tested the water for temperature (not bad!) and went for it, sprinting in and going all the way under. The first words from Webber were, "Don't open your eyes! It's salty!" That about summed up the experience: salty. The novel fact that you can float without any effort because of the salt content held true. The water tasted significantly more salty than the ocean. The salt burned a scrape of mine as the online guides said it would. After getting out and drying off with a towel, a layer of salt remained behind.
However, this saltiness was secondary to the tranquillity of the lake. There were no waves and the flat lake extended for miles. This unique beauty was easier to appreciate while  actually soaking in the water, altogether surprisingly close to an ocean-swimming experience.
So,  swimming in the Salt Lake: pass or fail? We rate it as a pass. Just make sure you bring some lotion.
Photo by Chris Hammock