Beginner's Luck: Starting Snow Sports as an Adult
Perhaps you know the feeling. You are gliding down the slope of a mountain. The groves of quaking aspens and Douglas fir that surround you open up to a majestic view of the canyon below. The wind bites your cheeks, but you hardly notice. For a moment, you feel as close to flying as ever.
And then, a child no more than 8-years-old, speeds past you, making the descent look completely effortless. The sight isn't rare for any adult novice on skiing slopes, and neither is the healthy dose of humility that accompanies it.
Austin Wood, 31, began snowboarding in 2021. After a snowstorm canceled a desert camping trip he had planned over the New Year, he instead decided to try snowboarding on impulse — and hasn't looked back since. Wood gets up to the slopes about as much as he can now with his Ikon pass. His new love for snowboarding has awakened a child-like enthusiasm. He says, "It reminds me of growing up and when I learned how to skateboard." Wood says that he "always wanted to snowboard, but [he] could never do it being from a city with no mountains." Now, he sees it as a way to appreciate and enjoy the winters we have here in Utah, a state known for having "The Greatest Snow on Earth."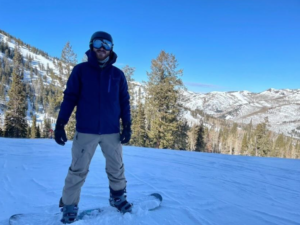 It's easy for some Utahns to take our access to the slopes for granted, but for many, that certainly is not the case. Wood is a Los Angeles transplant originally from the Midwest, for example, which made growing up with snow sports geographically unfeasible. Moreover, skiing and snowboarding are some of the most cost-prohibitive sports out there. Lift tickets alone can cost up to about $200 for a single day, and renting gear and clothes can cost another $100; buying new gear or passes will easily get you into the thousands. Wood says that's "the thing that kept me from trying it when I first moved here. It's hard to start if you don't have the gear, and you don't want to shell out a couple hundred bucks to fall on your ass all day." Cost and location are just a couple of the barriers to access, so it's also important to recognize that during the 2019-20 season, the National Ski Areas Association reported that 88.2% of visitors to ski areas were white, reflecting a clear lack of diversity that exists in outdoor recreation as a whole. Overall, engaging in snow sports can carry a lot of privilege, even for the most dedicated ski bums.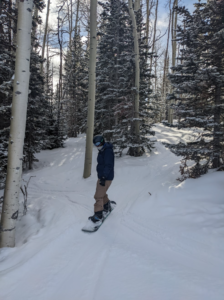 Similarly, it can also be difficult for transplants or beginners to break into the social scene and the occasional sense of elitism that can arise among people who've been skiing or snowboarding for their entire lives. Wood says, "It's hard to learn at this age because everyone else is already really good, and you don't want to hold them up." Wood also brings up the disparity between skiing and snowboarding among his peers, saying, "I don't really know anyone that snowboards, which is a little intimidating when you're just by yourself and you don't know if what you're doing is right." Experiencing the mountain as a solo snowboarder or skier can be different than what many beginners might have in mind when they first start — but snow sports can be equally rewarding as both a solo excursion and a social event.
Regardless of any anxieties newcomers might have, Wood says that the "best thing you can do is just go as much as possible. Especially as a beginner, you see yourself progress a lot quicker. Going from barely being able to get up at all to being able to connect my turns and go a day without falling, that early progress is a lot of fun." Wood first started learning by taking a weekend of lessons at Beaver Mountain, Utah's most affordable ski resort. Luckily, because he grew up skateboarding, he was able to transfer his skills fairly easily — something that may not be the case for other learners. Once he decided to commit to the sport, he found some used gear on KSL and saved up for a couple of essential purchases like a new helmet.
Regardless of skill level, skiing or snowboarding can be a fulfilling way to engage with our unique landscape in Utah. Simply put, it's a lot of fun! While trying something new as an adult may be daunting, the experience can reconnect us to our child-like sense of curiosity and persistence. As long as you have a good attitude and a sense of humor, experiences with falls and fails can help reset our egos and teach us to celebrate our small successes. Maybe there's more we can learn from the eight-year-olds on the slopes than just their form — to just have fun with it!
Leave a Comment
About the Contributor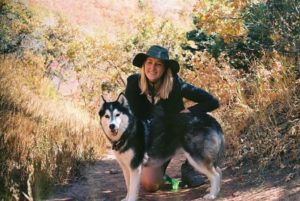 Ashleigh Albrechtsen, Writer
Ashleigh is originally from Ogden, Utah and considers herself lucky to have grown up among the Wasatch Mountains for most of her life. She's currently working on her master's degree in Environmental Humanities at the university. Her favorite activities in the outdoors include hiking, camping, identifying plants, and showing her husky the best places to sniff. Her most beloved place is in the canyons of the Colorado Plateau, surrounded by iron-rich dirt, opuntia cacti, and jet-black ravens.