Antelope Island Weekend Getaway
What to Know
Antelope Island is the largest and arguably the most scenic of the 15 Great Salt Lake Islands located in northern Utah. The 42 square miles that make up this state park are filled with beautiful scenery, and a wide array of wildlife. The flat expanse of land is ideal for viewing mule deer, pronghorns, jackrabbits, coyotes, and American bison as they roam freely throughout the island.
Antelope Island has quite a few amenities, so it's a comfortable getaway for even the most casual camper. Showers, bathrooms, the Island Buffalo Grill, horse rentals, boat tours, and a gift shop are just a few of the amenities that make a trip to Antelope Island a pleasant experience.
What to Do
If you're planning on visiting Antelope Island this fall, the weekend of Oct. 27 is a fantastic time to check it out. The park's annual bison roundup will be in full swing, making that weekend a perfect opportunity to see these animals close-up.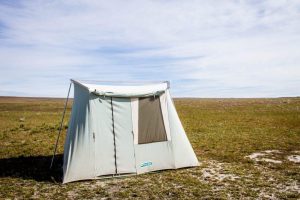 Here's a potential step-by-step itinerary for your stay:
Friday: Arrive at the park. Camping at Bridger Bay and Ladyfinger is $15 a night. If you miss out on these affordable sites, there is always White Rock Bay Campground, where campsites run at $30 a night.
Take it easy at first and check out Buffalo Point trail (.8 miles). A moderate hike with benches along the trail, it's the perfect way to get plenty of amazing views of the island as you travel to the point. It's also a great spot to view the sunset at the end of the night, as the fading light shimmers and glitters on the waters of the Great Salt Lake.
Saturday: The top of Fray Peak is also a great hike, and at 6,595 feet, this peak marks the highest point on the island. Frary Peak is strenuous, with an elevation gain of 2100 feet. The climb is absolutely worth the strain, though. Just like Buffalo Point trail, there are gorgeous views to be had on this hike; what's different though, is that you get to enjoy them in solitude. No horses, bikes, or dogs are allowed here, and it's not as popular as many of the shorter trails because of its 6.6-mile roundtrip distance.
Sunday: Relax and breathe. Antelope Island is not too far from the mainland — but it feels like it is. Enjoy the serenity and take a walk along the beach. If you're adventurous, you can also float in the salty (and admittedly smelly) water of the Great Salt Lake. For the more stylish, you can book a Sunday lunch cruise from Gonzo Boat Rentals and Tours at $55 per person. End the evening by joining a star party, where you can gaze at incredible constellations that can be seen clearly at this certified Dark Sky Park.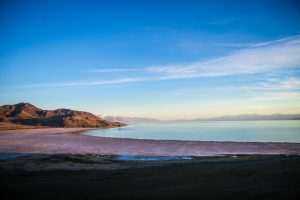 What to Pack
Bug spray, bug spray, bug spray — and sunscreen. Brine flies, midges, gnats, mosquitos, and biting gnats are constant inhabitants of Antelope Island. The biting gnats, referred to as "no see-ums," are very active in the warm months of spring (April-June). There is little sun shade or shelter from the elements, so a head net and hat can also come in handy.
Binoculars, or a telephoto lens for your camera if you're a photographer. You won't want to miss out on getting a shot of the bison as they roam across the plains. They are easily found, and not too shy. Wildlife viewing is one of the biggest attractions that Antelope Island has to offer for good reason.
A road or mountain bike. The Davis County causeway that connects Syracuse, Utah, to the island has a designated bike lane, and many of the park trails allow for non-motorized vehicles. Biking is a great way to explore the island, so definitely bring one if you can.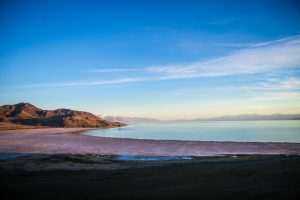 Leave a Comment