Beyond the Wasatch: Goblin Valley
Last year, my fiancé and I made it a goal to travel at least once a month. We visited national parks and monuments, state parks, and hot springs, and we were able to round out 2016 with 13 camping trips under our belts. This year, we started out fresh with a January trip to Goblin Valley State Park.
Goblin Valley is basically an enormous playground. There's something for everyone; campers, hikers, bikers, and climbers. The park's main attraction is the collection of sandstone hoodoos sprinkled throughout the landscape. Down in the valley, these mushroom-shaped rocks and towers fill your view in every direction, and each one is unique. Inside the park, there are five designated hikes.
Little Wild Horse and the Ding and Dang Canyons are just a few miles away from the visitors center and these slot canyons offer a whole day of fun. Little Wild Horse especially is very popular because you don't need to be experienced to navigate, climb, and scramble through it.
A day use pass to enter the park is $13. If you're planning to stay the night, there are 25 sites in the campground and two yurts available. Campsites are $25 a night, and there are options for tents and RV hook-ups. Along with that, there are showers and flush toilets, and each site comes with a fire-pit, picnic table, and shade shelter. Yurts are $80 and are equipped with bunk beds, a seating area, table, heat, A/C, and a BBQ cooker.
For weekend warriors like me, here's your perfect three-day itinerary: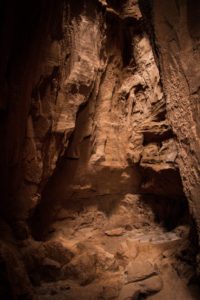 FRIDAY:
Arrive at the park as early as you can. After setting up camp, explore the three valleys of goblins. They are in close proximity to each other and offer hours of fun if you decide to trek through all of them. Pack a lunch and a lot of water. After a break, take the 1.5 mile hike to the Goblin's Lair and relax in the fresh cool air of this enormous cavern. If you're prepared for it, permits for rappelling down into the canyon can be purchased at the visitors center or you can hire a guide for a canyoneering tour.
SATURDAY:
Visit Little Wild Horse slot canyon, just five miles west of the Goblin Valley Visitor Center. The full loop of Little Wild Horse Canyon and Bell Canyon is eight miles, or you can stick to Little Wild Horse, 3.3 miles one way. It's easy to navigate for all skill-levels and ages. When you get back to camp, relax your sore muscles by the fire and gaze up at the many visible stars in this Dark Sky Certified Park.
SUNDAY:
On the last day of your trip, take the easy 250-yard trail down into the valley to get a closer look at the Three Sisters, one of the most iconic formations in the park, before packing up and heading home.
Leave a Comment