Bouldering Rockstar Alex Puccio
The history of bouldering is comprised of amazing feats initially thought impossible. The sport is made up of a wide variety of people, brought together by a similar love for sheer rock and tough holds.
Professional rock climber, Bouldering World Cup winner, and eleven time National Champion, Alex Puccio, is one such person. Raised in Dallas, Texas, Puccio, two months shy of 29, has been climbing more than half her life. At this point, her reputation precedes her.
"I started climbing at a gym called Exposure," Puccio says. This indoor gym near where she grew up led to a youth competition circuit where she competed until turning 16, at which point she was legally able to enter adult climbing circuits.
"When I was 16, I competed in my first adult national bouldering series, or comp," Puccio says, "And I actually won it, which was a big shock and a surprise to me." What some may have thought a fluke, Puccio proved to be a matter of skill and strength soon after, she says. "Every comp, or at least 95 percent of the comps that I entered for adults from that first comp, I won."
Puccio's skill is not limited to the gym, either. She's also conquered multiple V14 boulder routes, a level typically ranked in the "Elite" echelons of bouldering, and considers herself more of a boulderer than a sport climber overall. She explains she got into sport climbing first because, "When I was younger, I had to mostly sport climb because in the youth competition circuit" — a level of climbing competitions for those 18 and younger — "there wasn't any bouldering," she says. However, once she found bouldering, she says, "I naturally loved bouldering because I think I'm a more powerful athlete and I develop muscles just genetically like really easily, so I gravitated to the powerful side of climbing, and really loved it."
Videos capturing Puccio's sport climbing and outdoor bouldering are stunning to watch. When she's moving, Puccio makes incredible jumps, grabs, and upside-down holds look easy as she scales sheer rock faces and steeply angled walls. Analyzing those same sections later, even having seen Puccio make her way through, it is hard to believe any upward movement would be at all possible.
Despite major injuries — like a torn ACL and MCL and, even scarier, a herniated disc affecting her spinal cord, taking place within a year of each other — Puccio earned her eleventh National Champion win this year, in February at the downtown Salt Lake City Salt Palace. Though as a result of that second injury, she says, "I think I have slight loss of range of motion, and some of the muscles in my neck get kind of tweaked or cramped," she adds, "Other than that, I don't notice that much." In fact, injury seems to have been motivating for Puccio, who says, "I did my first competition about three and a half months [after surgery for the herniated disk], and went with expectations of just climbing and seeing how it went, and potentially backing out if I felt scared or not ready, and then I ended up winning the comp and I ended up winning every single comp after that for the next five months." 15 professional competitions. 15 wins. Post-major spine-related surgery.
Ever improving, Puccio will no doubt maintain a strong presence in the climbing world. If you spend time in Orangeville, Utah's Joe's Valley during fall and spring, or Little Cottonwood Canyon, you may run into her. Of Joe's Valley, she says, she and her boyfriend "love to go there for climbing outside. It's a beautiful sandstone rock and really fun to climb on.…Little Cottonwood Canyon's right in our backyard, basically. It's a really good climb. Most people don't travel really far [to get there], so if you go there, it's pretty small and scarce, but there are a lot of classic lines, and a lot of classic boulder problems … and sport climbing. It's definitely a nice area to have just to go local and to not have to go very far."
Cover photo by Kiffer Creveling.
Leave a Comment
About the Contributor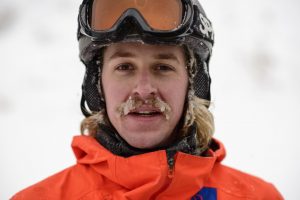 Kiffer Creveling, Photographer
Kiffer Creveling is a PhD student in Mechanical Engineering studying the strength of adhesion between the vitreous and retina of the human eye.  He has been working with the Wasatch Magazine for five years now.   Kiffer's favorite outdoor activity is skiing and snowboarding; whether that is downhill, telemark, snowboarding, or cross country skiing, he just loves the snow.