Buildering Salt Lake
Any person who lives or has visited Salt Lake City knows that there is an abundance of climbing tucked away in the mountains that tower over the city. It's pretty obvious. A 20-minute drive from downtown can get you to climbing that is renowned and visited every day by local climbers and visitors. Though getting stuck downtown without enough time to get to the crags is common. Luckily climbing can be found even in the concrete jungle.
The modern buildings and structures that make up downtown are artistic and interestingly designed with edges and sharp corners that catch the visitor's eye, especially the climbers. Urban climbing, often called buildering, is defined as climbing manmade structures in cities and towns. These include buildings, radio towers, water towers, bridges, and pretty much anything that has enough holds or friction to make it to the top, and hopefully has a way to get off. Some do it for exercise and some just simply for fun.
"Cities are often called the concrete jungle," says climbing facilitator Timmy O'Neill, "and I take it a step and handhold further, and consider them through the playful lens of the physical and mental exercise of the concrete jungle."
Through this perspective, Salt Lake City is just another jungle with plenty of options for the climbers who don't have time to make it up to the mountains or even to a quick gym session. For the bold, there is one unique structure that is sure to spark arousal. The old water tower that is located at Trolley Square is accessible by the staircase that winds up it, but only about 15 or 20 feet up. For the bold climber, the structure can be climbed on the side pillars with a combo of great hand and foot holds that end either midway up at a billboard or you can go for broke and climb to the top platform about 70 or 80 feet up. Trolley Square also holds some other decent architecture just waiting to be climbed.
There are a number of old churches that have distinctive features to make it a fun and daunting climb. Not to mention the number of LDS and Catholic churches that are riddled through the neighborhoods in the suburbs. One specific comes to mind. There is a church on 800 South and 1300 East, just across the intersection from East High. The rock that forms the walls has enough notable features and deep holds to make it a climb. It's probably best done at night when the traffic slows down and the people are scarce.
A lot of urban climbing is better left to the nighttime. In most cases, the act of climbing up a building is illegal, but this certainly doesn't stop people and could almost certainly add to the thrill. The rush of climbing something like the LDS temple is certainly present in people, and can even get them to forgo the consequence of trespassing on one of Salt Lake's most iconic buildings. There is also a fair amount of risk involved. A lot of buildering ends up being a free solo endeavor unless a top rope and be set up from above, but this is rare.
O'Neill says "the act of buildering is about questioning the validity and accuracy of conventional value, and the answer isn't approximated in words but in actions." To most, the risk is worth the reward.
There are also some great spots to get some climbing in without getting to high up and worrying about getting down. The front of the LDS headquarters building is a short wall with a flat globe that is carved into the wall. The amount of holds on this design can be used to make some fairly nice moves. If you want to practice some crack climbing, the Walmart parking lot off of 300 West has potential. The cracks lead up the pillars and the west side of the parking lot and are big enough for hand jams and can even be used to practice placing gear. Even though The Front climbing gym is less than a block away, it would be a great place for a late night session.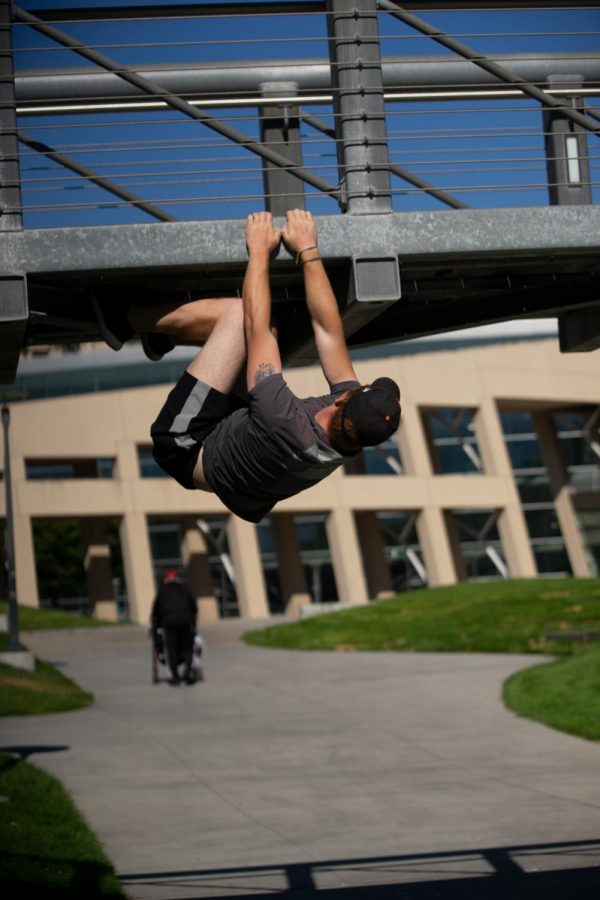 The Main Library plaza also has some places to climb and hangout, such as a bridge that overlaps the sidewalk and can be traversed fairly easily. There are also pillars and corners at the library plaza that can be used to make more compression style climbs.
Again, most buildering should be left to the nighttime and maybe be devoid of chalk out of respect. Finding urban climbs is easy as long as you're attentive and creative when looking around the city.
O'Neill says "as soon as we built a climbable structure there were individuals who looked at a potential higher vantage point and wanted to reach it."