Camping in Style
I packed my bag just like I had hundreds of times before. Sleeping bag on bottom, stuff sack with clothes above that, and water bladder, camp shoes, food, etc. crammed in all the gaps. This time, however, I left out the stove and warm pajamas. There would be no need for them because I would be sleeping in the backcountry's most luxurious accommodation: a yurt.
A true yurt is an impermanent, circular, dome-shaped dwelling. The form originated among the nomadic peoples of Central Asia. Modern, American yurts have deviated greatly from their origins. Today, they are often built on permanent wood platforms, use thick, reflective insulation to cover the walls, and have a host of modern amenities. Utah is one of the few states in the United States that has yurts on public lands available for rent.
Typically, reservations are booked months in advance for one of these coveted spots, but when I looked at the online calendar (found at brorayurts.org), I saw an opening. I called the reservation number the next day and booked the first of five yurts in the Lily Lake Hut system. This series of ski trails and yurts are located in the northern part of the Uintas, near the Wyoming border, and are managed by the Bear River Outdoor Recreation Alliance. Weeknight fees are $50 and weekend fees bump up to $75, after you pay the one-time $20 fee to become a member of BRORA. Compared to other getaways, it's a pretty good deal.
With a heave and a thud my friends and I lowered our packs out of the truck and into the mud puddle that was the parking lot. Sitting across from us on the horizon were the peaks of the Uintas, covered in snow and shimmering beautifully. The trail started out a slushy mess, but soon turned to solid snow. After walking short two miles later we arrived at our home for the night—Bear Claw Yurt.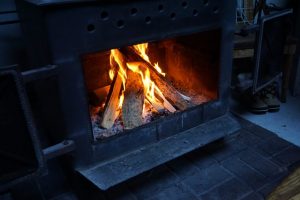 We were instantly impressed. The yurt itself was located in a secluded grove of Douglas-firs, had a picnic table outside, an outhouse close enough for the inevitable midnight run to relieve oneself, and a stack of firewood that'd last any pioneer through the harshest winter. Indoors was even better. Three bunk beds lined the left wall, allowing enough room for eight people to sleep; the center was filled with a circular table and four benches; and to the right stood an old cast iron wood stove that looked as if it'd come straight from an Alaskan trapper's cabin. There was no running water or electricity, but lines fed propane to a Coleman stove and lantern, and the cabinets were stocked with dishes, pots, and pans.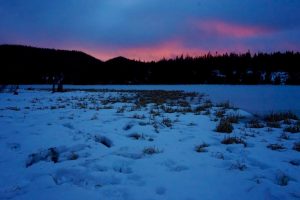 The sun was still reasonably high in the sky when we arrived so we picked our jaws up off the floor, dropped our packs, and headed farther down the trail to the nearby Lily Lake. We arrived with just enough time to catch the glowing pinks of a fading sun. Within a half hour of our return to Bear Claw we were seated around the little table enjoying warm bowls of chili, Hawaiian rolls, and grilled asparagus. The perfect ending to a peaceful weekend.
SaveSave
SaveSave
Leave a Comment
About the Contributor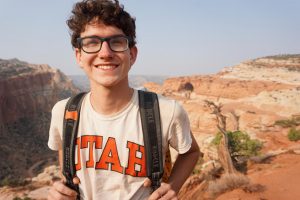 Nick Halberg, Editor
Nick is a senior studying philosophy and economics. He started with Wasatch Mag three years ago, and now is happy to be co-leading the publication as the Print Editor. He is passionate about environmental issues, especially ones regarding resource use. On weekends, he likes to explore new places in the desert.