Christmas Meadows, a Special Place for Mountain Adventures
As a photographer and nature lover, I am constantly on the move and looking for new adventures in the outdoors. My search has taken me all over Utah, from out west looking for burrowing Owls, to getting somewhat lost in the mountain forests looking for inspiration to pull out my camera and take a photo. In many places I have visited, I never even took my camera out of the bag. There is one place, however, that keeps me coming back because of the unique experiences I seem to have each time. That place is Christmas Meadows, an area located high up in the Uinta-Wasatch-Cache National Forest.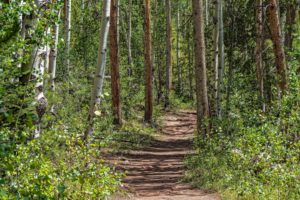 An almost two-hour drive from Salt Lake City, Christmas Meadows does take some effort to reach. That said, here are three reasons to skip the 600-plus trails between Salt Lake City and Park City and make the trek to what I have found to be a one-of-a-kind area of Utah.
Easy-going Terrain with Options
Christmas Meadows is unique in that the terrain, unlike many trails in Utah, is relatively flat for long periods before becoming more difficult as you move closer to the diverging point between Stillwater and Ostler Fork. One can certainly make the trek to Ostler or Amethyst Lake, but nearly every memorable experience I have had there didn't require the extra effort. The ecosystem is unique in that you have large trees all around the trail, similar to what you might find in Montana. If you step out of the forest into the clearing, you can see the Stillwater Fork river winding through the green-colored field with mountain ranges off in the distance.
Unique Species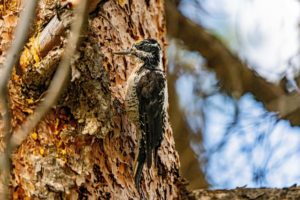 The Christmas Meadows area is located at just under 9000 feet above sea level, making the wooded area a high alpine forest environment. Many species will only live in an environment like Christmas Meadows. Utah is part of the southern range of three-towed woodpeckers, one of three distinct subspecies, and is only found in the high elevations of the Rocky Mountains. Although I have seen them in other locations in the Uintas, male Three-toed Woodpeckers are always in the trees near the trail. These birds carry a bright yellow marking on their heads, while females are only black and white.
A Moose Hotspot
Moose can undoubtedly be found in many places in Utah with some luck, but if you are interested in a near-guaranteed sighting, Christmas Meadows is the place to go. I have been there numerous times and have always found at least one moose during my hike. There is a catch, though, as some of those experiences might be more intense than you want.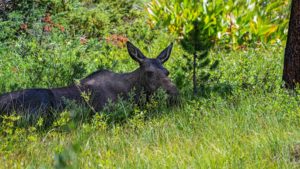 One moose encounter stands out as being both rather terrifying and amazing. After hiking the trail for about a mile, I decided to do some fly fishing in the stream. I walked out of the forest and set up my fly rod next to the stream. It wasn't until I was about to cast a fly in the water that I looked to my left to see a cow moose relaxing under a tree while her calf was exploring around the stream. The two moose were no more than 50 yards from me, which is way too close for safety, especially for a cow with her calf. Lucky for me, the mama moose did not care less that I was there and never got up from her shady spot under the tree.
Immediately after reaching the understanding that I was safe, I proceeded to set up my tripod and take some photos. I even did a little fly fishing after spotting some trout in the water. In total, I spent a few hours with the moose and enjoyed the experience of being accepted by a mama moose and her calf.
Christmas Meadows might be a long drive to reach, but the potential for unique experiences, with far fewer people present, is worth the effort. Maybe you will have a memorable encounter like mine on your adventure.
Leave a Comment
About the Contributor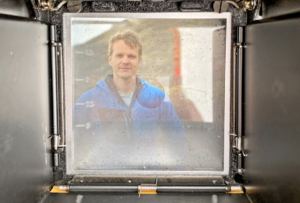 Kevin Cody, Photographer
Kevin Cody is a photographer at heart. He focuses on nature and outdoor photography but spends a lot of time doing other forms of photography, such as sports, photojournalism and product photography. Kevin graduated from Oklahoma State University in 2013 with a degree in Natural Resource Ecology and Management with an Option an option in Fisheries and Aquatic Ecology. Upon graduation, he realized that he wanted his profession to be more about experiencing the world rather than studying it. Kevin is currently working on a degree in Communications at the University of Utah as well as a minor in digital photography through the School of Fine Art. In his spare time you can usually find him up in the mountains or off on some adventure to find wildlife like burrowing owls in Western Utah.