Climbers Fight Gravity and Their Local Gym Rivals
When I ask about why people chose to move to Utah, I often hear one response: "I came here for the mountains." Plenty choose to stay for that reason as well. Salt Lake City is undoubtedly one of the best climbing centers in the world, and the sport has expanded greatly in the past few decades and continues at an exponential rate.
Climbing is considered a sport. Indeed, there are competitions held across the world. But it shares more with hiking sometimes than it does with football. Researchers who've examined it compare it closely with games like chess, and climbers have historically been good-natured with each other ⁠— outside of maybe a feud or two on bolting.
Even at competitions from the introductory to Olympic level, climbers hang out and share beta. At the gym, pros intermingle with newcomers and everyone in between. At its core, climbing has never been about competing with others, but with gravity. This trend remains even as climbing expands to the world stage.
Access and training for climbing have become a huge focus over the years. Climbing gyms have become most people's introduction and go-to for climbing. One is likely to see the same friends in Big Cottonwood as they see at the climbing wall.
Gym climbing has gone from fringe training facilities in garages to the way most people learn the sport now. In Salt Lake, we are fortunate to have not only great gyms but a selection to choose from.
For Ian Mckellar, a computer science major at Weber, the decision of which gym to go to was easy. "It's the only good gym in Ogden. I don't climb outside because I don't the idea of biking to a climb then biking home. All the extra gear is too much weight! The Front has lots of variety so I can do whatever I want ⁠— lift, yoga, run, row, whatever." Even though Mckellar doesn't get outside climbing much, he loves it because "it's a good way to get exercise but involves problem-solving. It's all about culture ⁠— people are usually pretty laid back."
Gabe Robinson, a computer science major at the U, said, "I chose Momentum in Millcreek because of its prime location. The gym is just down the street from the university and it's right next door to some of the most beautiful canyons in the world."
So, what's splitting the difference between these two computer-science majors?
THE FACILITIES
Nicole Passeri, Momentum's youth program manager at Millcreek, said, "I love the setting and terrain at our gym. The arch in our lead area remains as impressive to me now as it was the first time I saw it, and our boulders and routes always have something fun and challenging for everyone. I also like how all three of our gyms offer something different. We have the steep and endurance challenging arch at Millcreek, the impressive crack system at Sandy, and our amazing boulders at Lehi. There's something for everyone!"
Momentum has six gyms now and shows no sign of slowing down. Three of those locations are right here in the valley. The Millcreek location currently features 24,000 square feet of climbing, which is set to double well within a year as they complete the addition of the former Planet Fitness next door. The gym encompasses hundreds of routes and problems as well as a full gym.
Their Sandy location is close behind with 20,000 feet of climbing. Momentum Lehi is a bouldering gym boasting "nearly endless climbing terrain," according to their website. Lehi also comes with a gear shop and a 10% discount to members to boot. A membership at Momentum will get you access to all these locations and more, not only in Utah, but across the country.
Momentum offers a wide arrange of classes for climbers from learning to belay to crack climbing to leading, as well as classes for gym climbers to make the step into the outdoors. Yoga and group fitness classes are offered free to members.
Professor Kristina Rand, a route-centric climber, said, "We are incredibly fortunate in Salt Lake to have not just one, but two of the best climbing facilities in the country. It is a tough call to make, as each has their unique advantages. Momentum takes the lead on rope climbing with a jungle gym of amazing routes. As a sport climber who spends a lot of time climbing steep routes outside, Momentum is the better training facility for me. I am also a big fan of Momentum's involvement with the Salt Lake Climber's Alliance, who does so much for the local climbing community."
Meanwhile, The Front offers a huge 30,000 square feet of climbing at their Salt Lake location and another 10,000 in Ogden.
Tim Behuniak, The Front's marketing director, said, "What's cool about here is that [the walls] are wooden, kind of striking when you walk in. They have a different mood. For me, when I walk into The Front it sorta feels like my living room. The aesthetic just drew me in."
The Front offers an array of climbing classes to members and some such as "Falling Without Fear," where they give climbers the chance to work past their anxiety of falling or catching falls, a great idea for anyone with nightmares of whipping. They also have a class that focuses on teaching outdoor fundamentals to climbers. There are group fitness classes from Cycle Cross to Mountain Fitness— not to mention the recovery class for when you're making use of all the different options. Plus, there's a full restaurant on the top floor for when you're done. The Front also offers plenty of fun community events. "I can go listen to music or go have a beer," said Behuniak.
The Front is growing as well, as they eagerly anticipate their new Millcreek location, designed by University of Utah professor Hannah Vaughn.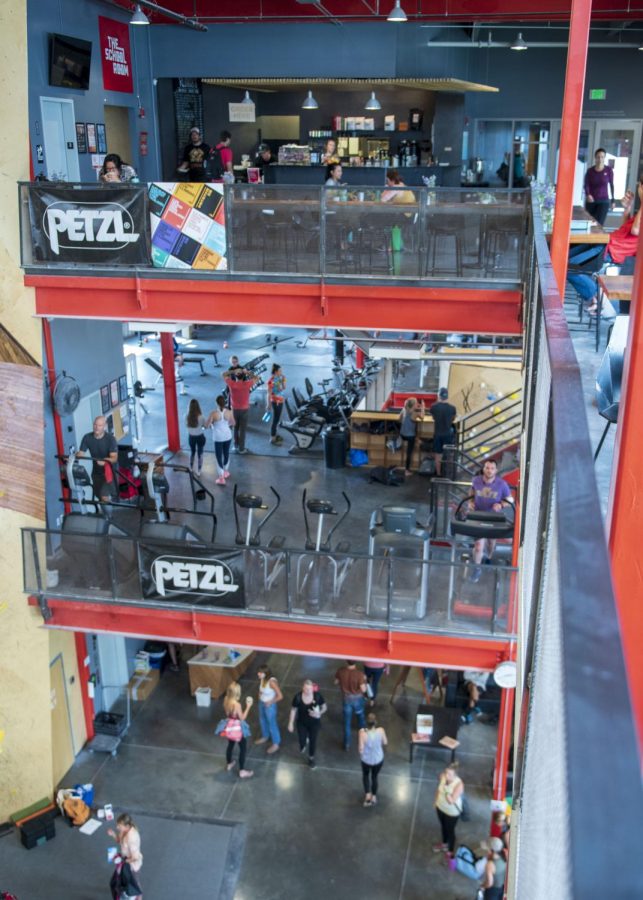 COMMUNITY
The community becomes a staple when you're engaged in a sport where you have to trust your life in the hands of your partner. Close-knit groups have always sprung up where climbers congregate and the gyms are no exception.
For Behuniak, this was vital. "I personally like The Front because of their community initiatives. Other gyms obviously do things for the community and give back in some way. Just being a part of that is really cool. I feel climbers are a little more mindful of the world. Because we're at the crags, we're seeing the environment firsthand and degradation and pollution."
As of May 2018, The Front's Impact Coalition has chosen four nonprofits that tackle the issues of climbing and environmental advocacy, clean energy, animal rescue, homelessness and mental health. As of August 2019, they've raised over $30,000 and matching those donations up to $40,000 per year. The nonprofits involved so far are the Salt Lake Climbers Alliance, Community Animal Welfare Society, Utah Clean Energy and Volunteers of America Utah.
Momentum works with Groups like the National Ability Center and the Boys and Girls clubs to spread the multi-faceted benefits of climbing as well as Momentum's own Nikki McGee's organization, Elevated Mountain Guides. Elevated Mountain Guides is passionate about "empowering under-served communities — locally and abroad".
Momentum is one of the three largest funders of the SLCA, including their now annual "climb-a-mile" fundraiser, in which Momentum pledged to add an additional $1,000 for every 100 participants. Their website states clearly, "Our support extends beyond our front doors to the local outdoor climbing as well. Momentum employees volunteer their time to support SLCA Adopt-a-Crag's, trail work, and instruct at the annual Salt Lake Climbing Festival."
Passeri said, "I think there are quite a few unique benefits to Momentum as a gym. I've worked at a few different climbing gyms now, from the east coast to boulder and now, here in Utah. Despite [Millcreek] being a big gym itself with multiple other Momentum gyms in Utah, I am proud of the community we have here. We have tons of regulars who I see in and out of the gym who are always friendly and excited to see you. The kids in our youth programs attend the local climbing festivals and events, which makes me really optimistic about climbing's future."
THE FUTURE OF GYM CLIMBING
For most people, it goes without question that gym climbing is more accessible than its outdoor counterpart. That even holds in an area like Salt Lake where world-class climbing exists half an hour from the city and keeps going till the edge of the state.
Behuniak said, "What's interesting about Salt Lake City is that it mirrors the climbing scene or vice versa. Salt Lake is growing still, it's a hub, they're trying to make Silicon Valley happen. We need gyms to cater to those people, whether it's Momentum or The Quarry down in Provo or The Front here and in Ogden. There's definitely room for multiple gyms. Each gym is thriving and I think they'll continue to grow." He said, "I don't think it will ever replace outdoor climbing. The gym can offer a way to learn those skills to go outside if that's your ultimate goal or you could make gym climbing your own thing."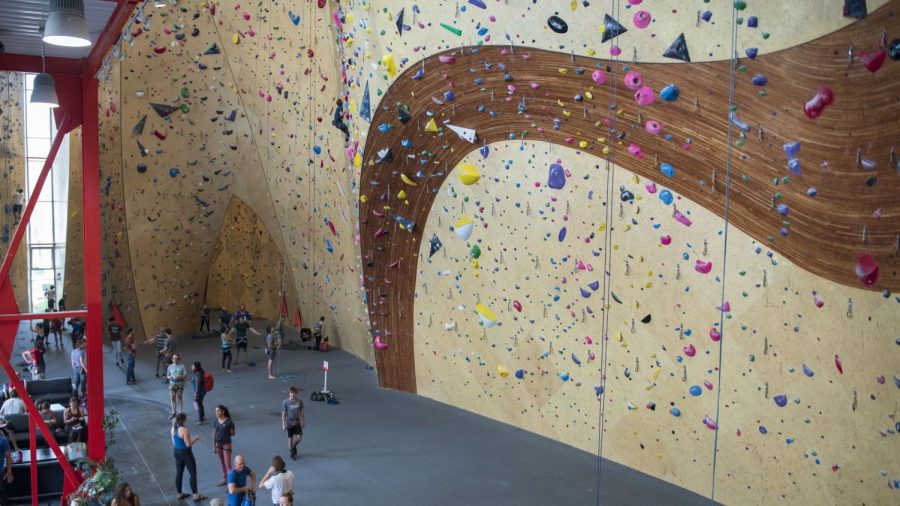 Are we at risk of losing our connection with the environment as climbing embraces the new gym culture? It has certainly increased the number of climbers out in the wilderness just as readily as indoors. This leads to challenges of its own in many ways. On one hand, climbing outside creates a direct relationship with nature that many don't get to experience even in a city like Salt Lake. That relationship will and must always be one of stewardship, climbers must pass these skills on to maintain access to these places. That gives it deeper meaning than merely being a sport.
Passeri sees ways to keep the climbing boom safe as more and more take to the crags. "I do think there are benefits and drawbacks to gym culture. While gym climbing makes climbing a more accessible sport for a broader audience, it can also lead people to think they are prepared for outdoor climbing when they don't yet have the appropriate knowledge. I think it's very important that gyms and guide organizations continue to offer educational courses for those wishing to expand and advance their climbing into the outdoor realm."
Though, even at its worst, climbing is the best full-body and mind workout you can find. At its best? That's something you'll have to determine for yourself. So, climb at the crag or the gym — but remember where our roots are. Whether you climb at Momentum, The Front, The Quarry, your college or outside, it all comes back to our mutual fight against gravity.