Climbing To New Heights With Kyra Condie
Hailing from Shoreview, Minnesota, Kyra Condie started climbing at age 11 and never looked back. "I think I started at a birthday party actually," Condie said. "I just loved it right away." She quickly joined the climbing team at her local gym and began participating in competitions, relishing the atmosphere of the events and the people she met there. As a self-proclaimed "decently competitive person," Condie felt right at home. However, it wasn't until she faced a major setback that her passion for the sport really blossomed. In 2010, the 13-year-old Condie was diagnosed with severe idiopathic scoliosis, requiring spinal fusion surgery to fuse 10 of her vertebrae. The subsequent four-month-long recovery period in which she couldn't climb reaffirmed her love for the sport. "That made me really realize that climbing was what I wanted," Condie said. "It was a formative time." After her recovery, she went on to win her first nationals on the youth climbing circuit and she later competed in world cups.
Olympic Ambitions
In 2016, the International Olympic Committee announced the inclusion of climbing as a medal sport for the first time in the 2020 Summer Olympics in Tokyo. The event combines three climbing disciplines – bouldering, lead climbing and speed climbing – and permits two male and two female qualifiers from each country. Making it to the Olympics immediately became Condie's primary goal. "It worked out really well with my life plan. I was graduating college in 2018 and then 2019 was going to be the Olympic qualification year, so it all worked out really nicely as far as timing," she said. After having balanced climbing with her studies at the University of Minnesota, she graduated with a degree in animal science and fully dedicated herself to her training, finding success on the world cup circuit in 2018 and 2019.
In November 2019, Condie moved to Salt Lake City, home to the USA Climbing headquarters and the national team training center. In the midst of Olympic qualifying events, the strategic timing of the move provided her with access to high-caliber coaching and competition-style climbs during a pivotal moment in her career. Condie explained that her favorite parts of living in Salt Lake are the climbing community, training center, coaches, resources and a "really good competition-style setting."
While Condie relocated primarily for training purposes, she expressed that the accessibility of the outdoors in Salt Lake has been an additional bonus. "The proximity to the mountains and all the great rock climbing out here is really nice because whenever we get a training break you can go outside, which wasn't as available in Minnesota," she said. When Condie's not climbing, she's often slacklining and playing soccer or volleyball at one of Salt Lake City's many parks.
Mere weeks after her move to Utah, Condie qualified for the Tokyo Olympics at the Toulouse Qualifying Event, where she placed 6th in speed, 8th in bouldering, 11th in lead and 7th overall. Condie is one of four American climbers heading to the Olympics alongside Brooke Raboutou, Colin Duffy and Utah native Nathaniel Coleman. The Olympics were slated to begin in July 2020, but in March, the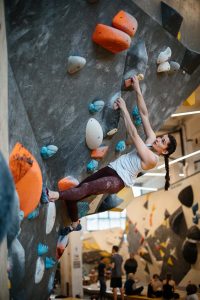 International Olympic Committee announced the postponement of the Games to the summer of 2021 in response to the pandemic. The global spread of COVID-19 has touched the lives of almost everyone on the planet, and professional athletes are no exception. During the first stages of the pandemic, most indoor climbing facilities shut down for months and outdoor climbing was discouraged due to health and safety concerns. Competitions were canceled indefinitely — leaving athletes with limited training options and little to train for. For the climbing community, the postponement of the Olympics was a blow to the increasing excitement to see the sport displayed on the world's biggest stage for the first time. "Everybody was really disappointed," Condie said. "It was a big thing that climbing's going to be a part of."
Life in Limbo
The abrupt cancellation of competitions and the postponement of the Olympics have left many athletes feeling lost. "It's been really hard, I know, for a lot of athletes," Condie said. "Everybody's going through this weird phase that nobody's used to, and it's kind of an identity crisis." Unprecedented times presented new challenges for many athletes who needed to rethink their training regimes. While it was possible to continue training on her hangboard and the small bouldering wall she built in her home, the uncertain state of the world took a toll on her motivation — a novel challenge for Condie. "It's really new to me to have that wane in motivation. That's what usually sets really good athletes apart – that they're always motivated."
To improve her headspace, Condie took a week off from climbing, a decision she says has gotten her inspired again. "It was like, okay, I'm going to reset and I'm going to get back into it. Ever since that, I've been feeling really good, but I will prepare myself [so] that if I ever need to do that again, I just will." The lack of upcoming competitions means there's no risk of taking a week off, which makes this kind of mental reset possible.
Despite the disappointment and uncertainty, Condie has chosen to see the turn of events as an opportunity rather than a setback. "I tend to look at it as only a good thing," she said. "I think it definitely increases my medal chances, having so much time to prepare and get better at my weaknesses. I've gotten more time to focus on other stuff that I wasn't going to have time to focus on, [in] both climbing inside and outside."
In addition to providing extra time for improvement, the open-ended nature of the near future has allowed Condie to have greater flexibility in exploring preparation styles and strategies. "Given the fact that we don't have anything that's coming up, I'm experimenting with my training and figuring out ways I can get stronger at certain things while not losing other strengths, which I'm kind of nervous to do when in competition mode," she said. As climbing gyms start to reopen, Condie is working harder and more creatively than ever.
Beyond Climbing
Even with the Olympics at the forefront of people's minds, many professional athletes understand that some things are more important than sports. While 2020 has been distinctly shaped by the pandemic, it has also been defined by nationwide protests for racial justice that first resurged in the wake of the police's murder of George Floyd. Condie has been vocal about the movement on her social media platforms, calling attention to the systemic inequities and encouraging action from her followers while demonstrating advocacy of her own.
Specifically, within the climbing community, Condie says there is a persisting refusal to acknowledge the problem of unequal access and resources for people of color. "The outdoor industry has a lot of gatekeeping in it and it needs to be addressed," she said. "One of the first steps to that is making people aware, and I think those of us with large platforms have a duty to uplift Black and Indigenous voices and underrepresented communities because we do have this large following in this space that is largely white." She continued, "Hopefully we can move on from there and start making the climbing community more inclusive and a safe space for everybody. There's obviously a lot of work to be done though." Condie is one of many athletes who have started using their platforms to promote equality and justice this year.
As we slowly approach the end of a tumultuous 2020, what's next for Condie? For now, preparing for the Olympics is the priority. Beyond that, she plans to pursue further climbing opportunities before dedicating herself to her other passion — animal science. Of course, planning for the future during these unpredictable times proves difficult, but Condie says she doesn't feel any pressure to have it all figured out right now.
"My plan was to do the Olympics and then do another world cup circuit and hopefully accomplish some goals there," she said. "Then I was hopefully going to go to vet school and now everything is offset another year, so [I'm] kind of going to just go with the flow." While her career as a professional climber is certainly thriving right now and the future remains bright, Condie knows it's not the be-all and end-all for her. "I feel good about what I'm doing right now and I want to make it work for as long as possible, but I feel that if I want to go to vet school, that's just a little ways down the road."
Regardless, this year hasn't been easy for anyone, and Condie understands. For those feeling frustrated about the uncertainty in the world and struggling to find motivation for the future, Condie encourages people not to put too much pressure on themselves and to recognize they're not alone. "Everybody's in the same boat," she said. "Even the Olympic athletes are feeling this way."