Climbs for All in Moab
For most U students, Spring Break is a time to escape from the cold weather, catch up on some much-needed sun, and take a break from homework, exams, and lab reports.
If you don't have any plans yet for the week-long vacation, I would recommend taking a trip to Moab. This time of year offers perfect conditions to get outside and explore. The temperatures range from the low 30s at night to the high 70s during the day.
One of my favorite things to do in Moab is rock climbing. The location I go to most often is Wall Street, just along the Potash Road outside of the city. The best part about this spot is the wide range of climbs that it offers, from easy slabs to tough roofs that truly test your climbing ability. I learned basic safety skills at "School Room." Wall Street is also where I figured out how to do my first trad climb.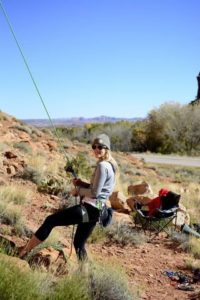 There is no approach here, which means you park next to where you belay. This is nice because you don't have to take time away from climbing to hike to the destination.
When I was there recently I explored a new area about 20 miles outside of Moab along Highway 313 en route to the Gemini Bridges and Dead Horse Point. This area is significantly less busy than some of the more well-known spots. We didn't know anything about the difficulty of the routes, which actually made it more enjoyable. There was no mental road block about the rating that we climbers often get.
While this was a new way to approach a puzzle with the right mental attitude, don't let it backfire on you. Nothing is worse than getting up on a climb that is too difficult to finish and then realizing you have to bail on your gear to get down. Be sure that you or someone in your party is competent to complete a route.
These are only two sections of climbing offered near Moab out of the hundreds of possible places to explore. For a complete list of the locations and route descriptions, I would recommend going to Mountain Project online. Their website is constantly being updated with new routes, ratings, locations, and beta for what gear you need.
I will never get tired of going down to some of my favorite routes in Moab, as well as exploring some new ones. That is why so many people are drawn to the area from all over the world, and we have the luxury of having it in our backyard — so take advantage of it this Spring Break.
Leave a Comment
About the Contributor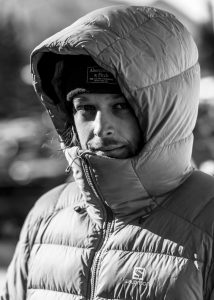 Peter Creveling, Photographer
Peter Creveling is currently a Ph.D. student at the U studying mechanical engineering and has been on the Wasatch team since 2015. His favorite outdoor activities include skiing and rock climbing, and he can be commonly spotted on the slopes of Big and Little Cottonwood Canyon year round