Conquering the City of Rocks
Have you heard of the City of Rocks? Just think a city — but with rocks. The City of Rocks National Reserve in Southern Idaho lives up to its name. It is a city of rocks that rivals New York City, only with natural rock structures. With well over 449 established rock climbing routes (traditional, sport, aid, and bouldering), this is a destination location for any climber looking to work on granite projects.
The City of Rocks is located northwest of Salt Lake City, approximately 166 miles away, or a three-hour drive. Head north on I-15 and make your way towards Boise, but turn off before you hit the Idaho border at Exit 5, then head west towards Almo, Idaho. Watch the speed limit as some of the towns you'll pass through might have the fuzz just waiting to make the rounds. There are a few campgrounds inside the City of Rocks National Reserve that will cost you $12.72 per night, but you can also camp on the BLM land south of Almo by 2 miles.  Once you pass the cattle guard, take an immediate right, and there will be a few camping spots.
After climbing in Little Cottonwood Canyon for the past two years, I was really excited to try some new rock when I visited. I had heard that the City of Rocks had some special granite rock that was unlike the granite in Little Cottonwood Canyon, and the rumors were true. The granite in the City of Rocks is so grippy, it felt as if you could walk up anything.
Our group headed to the Drilling Fields to work on the Lost World to practice sport climbing. We first got on Tourist Season — a 5.7— and the 5.8 just to the left. The site proved an excellent beginning to a climbing trip to the City of Rocks to work on foot placement, filled with excellent holds and bolts not too far apart from one another. Next, we worked our way over to the other end of the Lost World to climb. There's Friction Afoot (10.b) and Contra Friction (5.9). Both were excellent climbs to work on slab climbing and foot placement.
Our favorite route in the City of Rocks we climbed was The Drilling Fields (11.a). Brian Smoot, a veteran climber who has established a ton of climbing routes in the Salt Lake area, led the climb to get our group on top rope so we could each take a stab at the 100-foot route. From jugs to crimps to heel-hooks, this climb contained them all. Don't let the length of the route scare you, because once you are on the wall, it will seem as if you are in your own world and that each bolt is your goal. Only when you reach the top you'll realize how high off the ground you are. You'll finally catch your breath as your belayer lowers you to the bottom, looking up to see what you just accomplished.
If you have climbed all the routes in the City of Rocks that your hands can handle and still have not finished climbing, just 5 miles north of the City of Rocks is Castle Rock State Park with another 239 established climbing routes: trad, sport, aid, and bouldering. To reach Castle Rock State Park, head back towards Almo and continue north. Once you get to the park, you will need to pay the $8 park entrance fee before proceeding. Here, we climbed in Hostess Gully — West Corridor on the back side of Castle Rock.  This was a great place that had morning shade for Zinger — a three pitch 5.8 route — to work on rope management.
The approaches are very easy with 15 minute hikes that are moderate in difficulty. Climbing is on all sides of the rock which allows climbers to avoid the direct sun in morning/afternoon. Keep in mind that the most important thing in rock climbing is to be safe. Wear a helmet, and always check to ensure that your safety equipment will hold. With that in mind, I encourage anyone who wants to increase their skills in rock climbing to head to The City of Rocks, because it is an excellent location to boost your confidence.
Leave a Comment
About the Contributor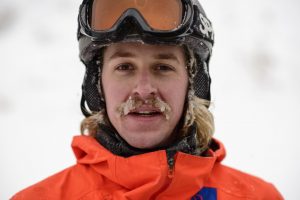 Kiffer Creveling, Photographer
Kiffer Creveling is a PhD student in Mechanical Engineering studying the strength of adhesion between the vitreous and retina of the human eye.  He has been working with the Wasatch Magazine for five years now.   Kiffer's favorite outdoor activity is skiing and snowboarding; whether that is downhill, telemark, snowboarding, or cross country skiing, he just loves the snow.