Dazed by the Desert: A Photo Series
Alright, brace yourself for an unpopular opinion, I used to hate the desert. Every year back in high school, spring break would roll around and my parents would decide — with the help of my sisters but never with mine — to head back down to Sedona, Arizona. A land that is full of red rocks, hippie shops and vortexes. I'd spend hours moping over the fact that we weren't going to the beach. I'm a water person and I'm the girl who chose to take a gap year in Australia for no real reason besides the fact that it has endless stretches of beaches and 85% of the population lives within 50 km of the coast.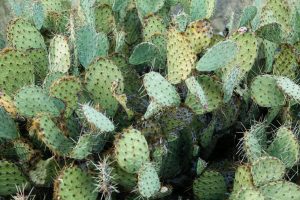 However, just because I disliked the desert doesn't mean I ever got away from it. I finally graduated from my hometown of Boise, Idaho — a desert in disguise — to Salt Lake City… another desert in disguise. The year I moved out, my parents decided to downsize and buy a second smaller house in Scottsdale, Arizona, where I now spend most of my school breaks surrounded by cacti. And let me tell you, cacti and I go way back. When I was seven or eight, I fell bottom-first onto a prickly pear cactus in Arches National Park and had to spend the rest of the night ripping cacti spines out of my skin with duct tape. What's more, my older sisters thought it was so funny they started "duct-taping" their forearm hair. Cacti and I have since made our amends — or so I thought. I got jabbed by a jumping cholla while taking these photos, but it just goes to show how the desert and I have always had a bit of a "rocky" relationship.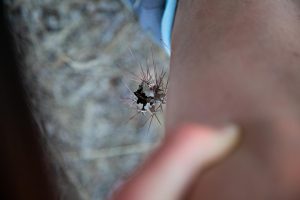 Who knew then that the same rocky scenery would later go on to set the stage for the bulk of my favorite college experiences, from bike-packing in Moab to rock climbing in Lamb's Knoll, canyoneering near Zion and rafting in the Green River. The world has seemed bent on dragging me back down to the desert time and time again, but in the last two years, I've started to gravitate down there naturally. I've started to notice the little details that make red rock deserts and habitats such an astounding and spiritual place for so many people — from indigenous people who have called these landscapes home long before colonialism, to foreigners like me who have been lucky enough to see it. I've slowly morphed into the desert-dwelling hippie I once abhorred, yelling "DON'T BUST THE CRUST" at visitors who stray off trails and educating people on how no, you can't poop in the desert, because it takes much longer to decompose in arid alpine or desert environments, and yes, that does mean you have to pack out your poop or hold it in until the next loo.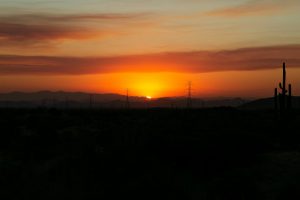 Desert doo-doo do's and don'ts aside, the following photos — minus the one of the cholla in my leg — are a culmination of my newfound appreciation for the desert. Going to school here in Salt Lake City, we are beyond lucky to live only four hours away from some of the best desert biomes in the world. And whether the desert is your frequent friend or another everyday passerby, it's worth taking a closer look at. You never know — you may one day find yourself like me, sitting back and admiring the red rocks, hippie shops and vortexes that were once a dreadful sight and realizing that there's no other place you'd rather be. As we approach the end of another semester and temperatures begin to drop, I hope you find yourself dazed by the warmth of this desert series.