Thirty-two miles outside of Moab lies Dead Horse Point State Park. This small but mighty state park rises 2,000 feet above the Colorado River and provides incredibly awe-inspiring views of the deep canyons, towering rocks, and buttes of the Canyonlands. The park is nicely situated: 30 minutes from Arches National Park and 10 minutes from Canyonlands National Park. Visiting Dead Horse Point is a great way to enjoy the landscape of these nearby national parks without the crowds of tourists.
Dead Horse Point is a certified "International Dark Sky Park," and the wide open desert sky makes for great stargazing, as well as beautiful sunsets and sunrises.
There are eight different hikes to choose from and they range from easy to moderate. Dead Horse is ADA-accessible and family-friendly park, plus biking is allowed and park rangers provide guided tours on the weekend.
The legend of how Dead Horse Point got its unusual name is an interesting but sad tale. During the 19th century, ranchers in that area took advantage of the dried brush and branches to create a natural corral for their horses. Unfortunately, at one point many horses died due to exposure and the scarcity of water.
The entrance fee for the park is $10 per vehicle and the visitor center is open year round from 6 a.m. to 10 p.m. The campground has 21 sites and one group site. These fill up quickly so if you want to camp inside the park, make sure to make a reservation. The campgrounds are $30 each.
There are bathrooms, water, RV, hook-ups, and a dump station but, no showers. Each campsite has a sheltered picnic table with built-in cabinets for locking up food overnight.
Along the road into Dead Horse, there are two BLM campsites called Cowboy and Horsethief. Cowboy has seven sites at $10 a night, and Horsethief has 56 sites at $15 a night. These sites all have bathrooms, picnic tables, charcoal grills, and fire pits.
If you'd like to camp in style, consider staying in one of the two yurts. These will set you back $99 a night but the amenities make up for the cost. Sleeping for six, electricity, a fireplace and a propane grill are provided for guests. Just don't forget to pack bedding, utensils, and food. Another huge perk of the yurts: air conditioning. During the height of a Utah summer in the desert it's a blessing.
Dead Horse Point is ideal for a weekend trip, and this is a great park for enjoying all year round.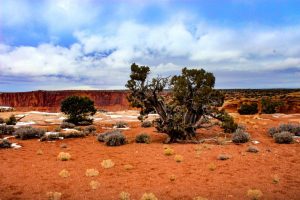 DIY TRIP
DAY 1:
After you've set up your campsite, take a drive up to Dead Horse Point overlook. From the point, you can look down on the Colorado River and experience the beauty of what millions of years have done to change the land. Layers and layers of sandstone and leftover sediment have turned this once water-filled area into a magnificent desert peninsula. After spending time here, settle in by the fire to enjoy the sunset and do a little star-gazing.
DAY 2:
On your second day at the park, I recommend getting up bright and early to hike the rim trails. Both the east and west rim trails are moderate hikes and are a great way to see Dead Horse from different angles. There are many great spots to stop and take pictures along the trails.
After an afternoon lunch break, head to the Intrepid bike trail. There are three loops of this trail that equal 16.6 miles. It starts at the visitor center and the terrain is suitable for mountain bikers of all levels.
DAY 3:
Before you pack up and head out, make sure to wake up early so you can catch the sunrise as it hits the red Kayenta sandstone. Just outside of the visitor center is the Pony Expresso coffee shop, open daily from 9 a.m. to 5 p.m. Grab a bite to eat here and take the time to enjoy the view of the amphitheater situated just behind the visitor center. If you've brought a furry friend along feel free to take him for a walk on the nearby basin overlook trail. All the trails in the park, except for the mountain bike loops, allow dogs.