Desert Destinations for Crack Addicts
For a certified crack-climbing addict like myself, winter in Salt Lake City can be a tough time of year. As the snow line quickly descends from the peaks above the town of Alta to the foothills of Cottonwood Heights, peaceful after-work crag sessions are replaced by plastic pulling at a crowded gym. Soft ratings and comfortable jug-holds act to sooth the ego — bruised by a fall full of panic-inducing "5.9" granite slabs. But after a few weeks of inhaling chalk dust and dodging flying teenagers in the boulder cave, the heart craves the great outdoors.
By all accounts, the Wasatch Front is home to some great ice climbing routes that could provide some satiation to the seasonally affected rock climber. That is, if you're game for dangling a bunch of sharpened cylinders off your harness that are just waiting to auger a hole into your thigh while strapping knives to your feet. Yes, a seasoned ice jockey may tell you that these risks can be managed. Right before they tell you that whatever you do, you cannot fall, lest you become swiss cheese. As you may have guessed, it's also really cold.
Lucky for us, Salt Lake City is well within driving distance of two of the most prominent winter climbing destinations in the entire country — Moab, Utah and Red Rock National Park, Nev. While both areas are in desert country, featuring large quantities of high-quality sandstone, a visit to either area is incredibly distinct.
The greater Moab area contains an entire lifetimes worth of climbing from remote desert towers in far-off canyons to roadside sport climbing on Wall Street, there is a continuous spectrum of adventure to be had. Likely the most famous of all is Indian Creek, located about one and a half hours south of Moab proper. The Creek is known for tall, vertical walls of Wingate sandstone that form continuously parallel cracks of all sizes. The sheer quantity of these splitter cracks cannot be found anywhere else in the world.
Although increasingly popular, a trip to the creek is not for the unprepared or the faint of heart. Once turning off of the highway, cell signal is effectively non-existent, and you'll also be hard-pressed to find running water or a place to stock up on forgotten provisions. Visitors should come with a healthy supply of food, water and camming units. Also, climbing tape will be necessary since the cost of admission to almost any climb is likely to be a few square inches of skin.
On the other end of the adventure spectrum is Red Rock National Park, situated on the outskirts of Las Vegas, Nev. As opposed to the somewhat free-range camping style at Indian Creek, the camping options within the National Park are limited to the official campground, which is predominantly reservation based. This often has shifted the lodging arrangements from camping to staying at a hotel, which is not such a bad thing during the cold winter months. Also, in opposition to the Creek, the climbing style in Red Rock is highly varied, from bouldering and pure single pitch sport climbing to epic wide chimneys and long multi-pitch routes with a mix of face and crack climbing. If endurance crack climbing or camping in the cold isn't your thing, the extra hour drive to Las Vegas is definitely worth the effort.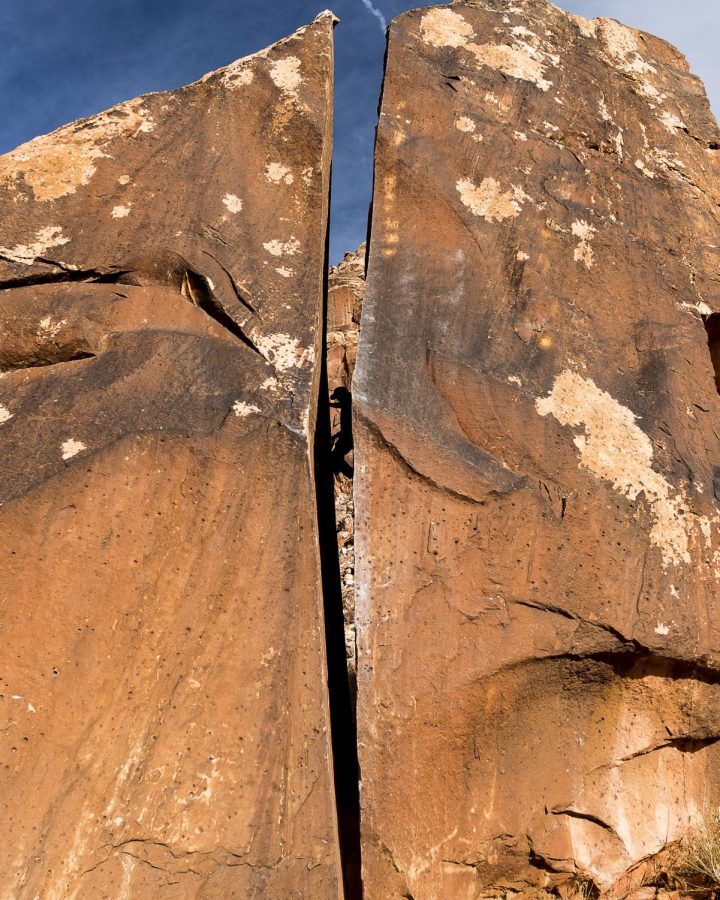 Before you pack your bags and head on down I-15, giving the bird to the icy mountains as you go, you should know that there are some rules to recreating in the desert, no matter the time of year. First and most importantly is to pack-out your s!@t. The increased popularity of outdoor recreation in 2020 makes burying human waste and toilet paper in the desert an unsustainable practice. A responsible citizen of the desert must be prepared with wag bags or the poop transportation system of their choosing and dispose of their waste in a properly sealed container once back in civilization.
Second, is to never ever climb sandstone that is wet. Climbing on wet sandstone can break holds, permanently damaging routes and is a major safety hazard, as the strength of cam placements and fixed anchors are highly compromised. There is no ironclad drying period, but 24 to 48 hours after the last rain is usually an acceptable minimum. Another trick is to turn over a stone nearby a climb and inspect the soil underneath it. If it is dry, the rock has probably had enough time to dry out, if not, it is better to save the climb for another day.
For more detailed information concerning wet rock, waste disposal, camping and seasonal closures, be sure to visit https://friendsofindiancreek.wordpress.com/ and https://www.blm.gov/programs/national-conservation-lands/nevada/red-rock-canyon