Discover a Warm and Groovy Place for a Soak in Monroe
One thing to know about me: I hate being cold. I absolutely loathe it. If I could be wrapped in a heated blanket all through winter I wouldn't object. Unfortunately, this is not an option, so instead of becoming a hermit all winter long I've found that visiting one of the many hot springs in Utah is a much better way to stay warm and have fun.
When I moved here from Pennsylvania five years ago I was determined to take advantage of as many hot springs as I could. One of my favorite springs in Utah, and one that I love returning to, is Mystic Hot Springs in Monroe.
The first thing that sets Mystic apart from other hot springs is its accommodations. Along with tent camping spots and cabins, the resort has some very funky, and very cool, vintage converted buses to spend the night in. Each bus is different; some are set up with bunks to be party buses, and others are cozy for two.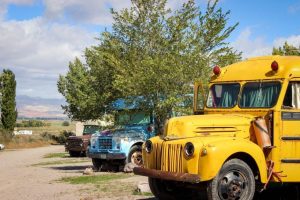 My boyfriend and I stayed in the Ripple bus and spent most of the day soaking, napping, and eating. Mystic is a well-kept secret. It's never ridiculously crowded and there are so many different pools you never have to wait around to get a tub all to yourself.
The heart of this small town feels like a bubble of calm. There are no loud noises or lights to intrude on the tranquility of the campsite. There's nothing better than getting into a hot pool at 12 a.m. after relaxing by the fire after dinner. Above, the stars shine brightly due to the lack of light pollution.
It's not a typical resort with fresh towels and room service, but for what it lacks in modern amenities, it makes up for in atmosphere. The resort has been around for a long time, and when "Mystic Mike" Ginsburg purchased the place back in 1996, he was able to keep the 70's charm of the resort despite new cabin builds and renovations.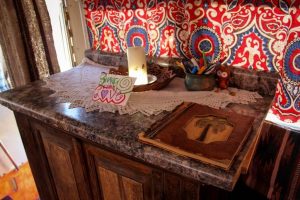 Mystic Hot Springs attracts a diverse group of outdoorsmen and women. It's a place that invites musicians, artists, story-tellers, hippies, and soul searchers to come and relax. The owners leave personal touches such as chocolate mints, incense, and handwritten welcome letters for each new guest. It's little things like this that make visiting Mystic worth the drive every time.
Photos by Esther Aboussou
Leave a Comment