Dotted Mountain Majesty With Artist Elizabeth Walsh
If setting out to paint the Wasatch range and effectively capturing its massive peaks, jagged ridges and grandiose scale already seems like it would be a challenge, imagine trying to do so using only tiny painted dots. For Elizabeth Walsh, a Salt Lake City-based artist, this is the norm. She is a pro when it comes to finding the patience and stamina for endurance painting. "My pieces take dozens of hours, sometimes hundreds. And sometimes my body hurts sitting and working that long, but great work has no shortcuts," she said. Walsh creates paintings of varying sizes — some are murals that cover entire walls. They generally feature mountains in the center that are made up of tiny dots, and the backgrounds are typically comprised of even more dots. Walsh also incorporates vivid colors and intricate swirling patterns. "I'm not sure if I should call it pointillism since it's a little different from what that traditionally looks like. Some call it dot art, but really I just could never do anything realistic! I thought about how I could abstract natural concepts and started using dots. But I want to keep growing and adapting my style," Walsh said. "I mean, last year at this time, I was doing everything with dots, and now I'll actually do the mountains in ink, so I guess it's becoming more realistic." This feels like a massive understatement, as her delicate ink work brings out the rugged details in rocks and mountains with astonishing finesse.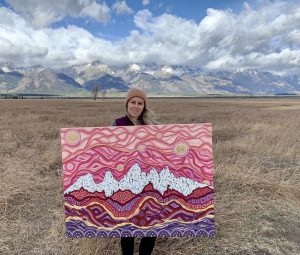 Originally from Wyoming, Walsh has lived in Florida, France, Colombia, Germany and Tanzania, and is fluent in multiple languages. After moving to Salt Lake City at the beginning of the pandemic, her paintings have come to feature local landmarks and familiar mountains. "Being a Utah artist has allowed me to do a bunch of hiking in the area. I'll do a hike somewhere and then paint it. Recently, I did Lake Blanche and Timpanogos, and even took a few trips down to Arches and Bryce," she said. Walsh's Instagram feed is filled with photos of her and her paintings out in the Salt Lake Valley and throughout Utah. Many of the photos feature the painting proudly displayed in front of its real-life inspiration. Plein air painting is difficult with her work because of the time requirements and need for a flat surface, so Walsh usually works from photos and might bring pieces back to their inspiration site later, bringing her paintings full circle and honoring their natural inspirations. Walsh does not only paint mountains, but they are the subject she feels most drawn to. "Mountains are the most spectacular landforms there are. They command attention. They are notable. They are memorable," she said. "They represent a challenge to hike, climb or even paint. Each one is unique and so many are recognizable. I love being in the mountains here in Utah; they inspire me so much and I love capturing that magic on canvas."
Although Walsh took art classes in high school, used painting as a way to destress in college and then spent years learning and practicing with small paintings and lots of dots — she didn't fully launch her professional art career until a year ago. This past summer, she got a solid start in the Salt Lake art community through Craft Lake City. She launched an Etsy and started selling prints shortly after, and now she takes commissions and occasionally does murals. Walsh has work on display all over Salt Lake, including at the Urban Arts Gallery and at the Gallivan Center. You can find her work on Etsy and check out her Instagram @elizabeth_walsh_art.