Editor's Note
About two years ago I had a serious Grinch moment.
I was standing in the middle of a Shopko when it happened, surrounded by tinsel and turtleneck-wearing twits, attempting to do the most horrid task known to man: Christmas shopping. Admittedly, I'm not a real jolly person on a regular basis, but throw me in a situation full of holiday cheer and I'm downright mean.
This fateful December day was no different. The Scrooge within me was itching to come out, and after hours of unsuccessful shopping, it did just that.
"I hate Christmas, and I hate all of you," I roared from aisle five.
My dad swears everyone in the store whipped their heads around to get a good look at the lunatic lady inhabiting my body. I wouldn't know — I just needed to get the hell out of Whoville.
But while my heart may be well more than two sizes too small during the holidays (let's be honest … year-round), we've put together this issue of Wasatch Magazine to ensure that yours doesn't have to be. It's full of your favorite things to do in Utah: skiing and snowboarding the greatest snow on earth. Inside these pages you'll find stories and photos on the dangers of the backcountry, the best places to cross-country ski, and the right way to wax your snowboard.
So avoid a Grinch moment (and your relatives) this season: Hit the slopes instead.
@CourtneyLTanner
Leave a Comment
About the Contributor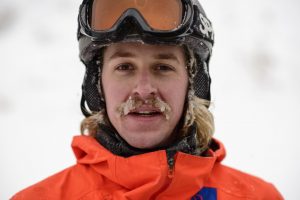 Kiffer Creveling, Photographer
Kiffer Creveling is a PhD student in Mechanical Engineering studying the strength of adhesion between the vitreous and retina of the human eye.  He has been working with the Wasatch Magazine for five years now.   Kiffer's favorite outdoor activity is skiing and snowboarding; whether that is downhill, telemark, snowboarding, or cross country skiing, he just loves the snow.