Embrace your inner mountain goat with three Wasatch hikes
When I was a kid, my dad used to call me a mountain goat (it's more endearing than it sounds).
We used to go on hikes all the time, and I'd easily run over the rocks and rubble of the trail to be the first to get to the top. My hiking boots, or hoofs, moved fast and smooth over any landscape (and my hair was just about as scraggly as my hoofed mammal friends).
Now, 10 years later, I'm a little less spritely but no less of a hiker. I love to hit the trails when I can, especially in the Wasatch. It's a short drive from Salt Lake City that's quickly rewarded with beautiful landscapes. Winding roads lead up aspen-filled canyons. Wildflowers coat the hillsides. And blue skies meet green pine trees as your feet meet the dirt trail.
To help you explore just how neat this nature is, I've compiled a list of the top three hikes in the Wasatch, best experienced by channeling your inner mountain goat, of course.
1. Bell Canyon
Difficulty: Moderate
Length: 4.6 miles round-trip
Location: Mouth of Little Cottonwood Canyon
This trail is fit for any hiker because there are so many options. First, there are two different trailheads. The one to the north inclines gradually while the one to the west shoots about 90 degrees uphill (you can guess which side is my favorite). Both meet at the Lower Bell Canyon Reservoir, a small and scenic lake. If you're anything like me and find yourself with an overwhelming compulsion to fish whenever you happen upon a body of water, you're in luck. The reservoir is stocked, and you can catch-and-release some nice cutthroat trout.
After that, to paraphrase Robert Frost, two roads diverge yet again, and you have to choose your own damn path. For an easygoing hike, I suggest walking the perimeter of the lake. It's peaceful and fairly level. It's also a fun place to watch a sunrise or sunset over Salt Lake Valley.
For the more adventurous folks, head up the path to the north of the reservoir to get to the waterfall. Be prepared, the trail inclines quickly and you need to carefully follow the signs. A friend and I once got lost temporarily on the hike. It was early spring and there was still some snow on the ground. To keep ourselves occupied until our group found us, we had an epic snowball fight — which is another great part of this trail. If you're willing to get a little muddy in the early months, you can hike it most years from May to November.
I know you're a mountain goat now, but once you reach the waterfall, don't get too close to the edge. The rock can be slippery and the perch is pretty high up. Just sit back and enjoy the exceptional Wasatch scenery surrounding you. When you're done, head back down the same way you came up.
2. Albion Meadows
Difficulty: Easy
Length: 3 miles round-trip
Location: Little Cottonwood Canyon
Do you know the children's book "Where the Wild Things Are"? Well, this hike is kind of like that, except it's more of a "Where the Wildflowers Are" with no scary monsters.
The best time to head up to Albion Meadows is June through August, when red Indian Paintbrush, blue Wasatch Penstemon, and small yellow sunflowers pepper the hillsides. But the hike, nestled next to Alta Ski Area, is really a fun retreat anytime when there's not snow.
The wide, meandering trail generally rambles along, with the exception of a couple steep spots — thankfully the view makes it so it doesn't feel like exercise. Everything is lush and green, with denser patches of pine trees the higher up you get. At times the trail opens up for a wide view of mountain peaks; at others it navigates tightly through the forest with an all-around magical experience for both hikers and bikers.
The Albion Meadows trail connects to a couple hikes, notably Cecret Lake and Catherine's Pass. If you've got the time, make a day of it and explore some of these options. This area is also prime moose country, so keep your eyes peeled (it is a distant relative of the mountain goat, after all).
3. Silver Lake
Difficulty: Easy
Length: 0.8 mile loop
Location: Big Cottonwood Canyon
OK, so maybe some people don't call this a hike — there is, admittedly, a boardwalk. But you can join me in telling those people to shut up. Silver Lake, situated by Brighton Resort and Solitude Mountain Resort, is a relaxing place to take a Sunday stroll, get out of the city, or escape the summer heat.
Maybe it's because I'm neurotic, but I always have to start by heading to the right, counterclockwise around the lake. You can do as Fleetwood Mac says and 'go your own way,' but my route leads you directly into the action (as much action as possible for this mellow hike, of course). There are tall willows on this side where you can sometimes spy a moose.
After a few hundred yards, before the boardwalk wraps tighter to the lake, you should see a dirt trail leading up a small hill. Follow this, and you'll stumble into what I like to call Utah's own "Avenue of the Giants," where tall aspens tower overhead — perfect to visit in the fall when the leaves turn yellow. You can either keep following this path to reach another small lake or turn back to finish the loop around Silver Lake.
There are plenty of benches along the trail to unwind and watch wild ducks move across the water. Double bonus: You can fish here, too.
[email protected]hronicle.com
@CourtneyLTanner
Leave a Comment
About the Contributor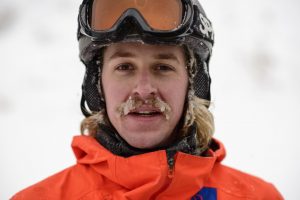 Kiffer Creveling, Photographer
Kiffer Creveling is a PhD student in Mechanical Engineering studying the strength of adhesion between the vitreous and retina of the human eye.  He has been working with the Wasatch Magazine for five years now.   Kiffer's favorite outdoor activity is skiing and snowboarding; whether that is downhill, telemark, snowboarding, or cross country skiing, he just loves the snow.