Enjoying the Snow in Snow Canyon
Utah is famous for its five beautiful national parks, Zion being the most famous of them all.
While lesser known, there are plenty of state parks in the area that offer many of the same views and amenities as the more popular Zion National Park for a fraction of the cost and a fraction of the crowds.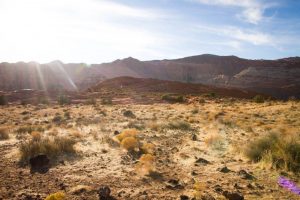 Snow Canyon State Park located in Ivins, UT just outside of St. George is a wonderful example of this. This beautiful state park is located just one hour west of Zion National Park, and, while not as large, contains a very similar landscape and quite the selection of hikes to keep you busy.
At $6 per vehicle, the entrance fee for Snow Canyon State Park certainly won't break the bank. Camping is $20 a night for a basic site, and $25 for a campsite with hook-ups, water, and electric. The 27 campsites are set against a backdrop of stunning red and white sandstone that southern Utah is famous for.
Snow Canyon was founded as a state park in 1959 and was named after Mormon settlers Lorenzo and Erastus Snow. The park is famous for its cinder-cones, lava flows, and tubes that have formed over the years after the Santa Clara volcano erupted.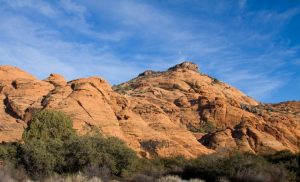 Though the campground is small there is plenty to keep you busy. Hiking, biking, and horseback-riding trails are available to explore in the 7,400 acres of Snow Canyon State Park. Out of the 38 miles of hiking trails, I would recommend the Johnson's Canyon, Whiptail, and Cinder Cone trails. Johnson's Canyon is an easy two mile hike that leads to great views of an arch spanning 200 feet, reaching it after winding through lava flows and red rock canyon. Whiptail is a bit longer at six miles roundtrip but is still fairly easy and accessible. The Whiptail trail is great for hikers and bikers alike and it's a great way to take in the flora and fauna, with many plants that are native to Snow Canyon observable along this trail.
If you're looking for something to challenge you, Cinder Cone trail is the way to go. This hike is difficult — even being only one and a half miles round trip. What makes the effort worth it is the end sight of a crater that was left behind when the Santa Clara volcano erupted.
While Snow Canyon certainly has its own unique features because of its volcanic origins, there are still many similarities in its landscape to Zion National Park, such as the eroded sandstone waves, red rock towers, and sandstone cliffs. Additionally, because of the mild weather year round in the St. George/Ivins area, Snow Canyon is open year round. The campsites are also accessible year round. Hikes may sometimes close due to flash flooding or maintenance, but updates are usually posted on the park's website ahead of time.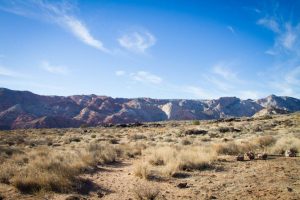 Until word gets out about how awesome Snow Canyon is, you can avoid the crowds and enjoy the solitude while taking in all the beauty that southern Utah has to offer.
Leave a Comment