Explore the Wasatch in Winter
Utah is well-known as a prime winter skiing destination, but it has so much more to offer.
To discover the natural scenery at this time of year, scout out some of the frozen waterfalls that dot the state from up north in Layton down to the deserts of Zion National Park. Provo Canyon has some of the closest falls. The famous Bridal Veil Falls, which has the luxury of an easy approach with a parking lot right at the base is also a popular ice climbing destination due to its numerous routes that vary in difficulty. Another frozen waterfall to explore is Stewart Falls, located near Sundance. The falls split into two tiers as it towers for over 200 feet. At just over four miles, this is a moderate hike. As you ascend to the falls, stop and take in the surrounding scenery — a stunning panoramic view of the valley below with snow blanketing the cascading mountains.
Another iconic frozen waterfall to venture to is Donut Falls up Big Cottonwood Canyon. This is a great hike for beginners; it sees plenty of traffic through the season, making it easy to walk along the hard-packed snow. Although it may be an easier hike, don't let that deter you from throwing on your snowshoes to make the trail even more enjoyable. Donut Falls isn't completely frozen, nor tall enough to ice climb, but its natural beauty is worth the trek up the canyon. Seeing the water rushing over ice covered rocks is truly breathtaking.
Up north, find frozen falls in Adams' Canyon in Layton. While more difficult, the view along the entire trail makes up for your lack of breath. The trailhead starts on the benches of the valley, which serves as a great vantage point of the city and is far away from the inversion.
Snowshoeing to frozen lakes, such as Red or White Pine in Little Cottonwood Canyon or to Lake Blanche up Big Cottonwood Canyon, are also great winter activities. They all have several hundred feet of elevation gain ranging over five miles of terrain. Snowshoes and poles are a must as you scale the steep terrain. The still lakes are incredible as frosted mountains tower over you. Make your trip longer and enjoy the sun setting on the mountains during an overnight trip. Be sure to dress appropriately, since temperatures at night can drop to dangerously low numbers.
If you want to venture away from the busy Cottonwood Canyons, Snowbasin Resort and North Fork Park are excellent alternatives. Snowbasin (one hour north of Salt Lake) and North Fork Park (an hour and 15 minutes north of Salt Lake) both offer over 20 km of groomed trails maintained almost daily. At North Fork Park, the south trailhead has a spot to grab warm drinks, snacks, or trail maps.
So, those without a ski pass this year, rejoice! There are plenty of adventures to be had in the Wasatch during these winter months.
Photo courtesy of Casey Hyer
Leave a Comment
About the Contributor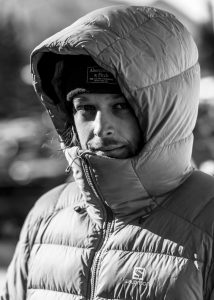 Peter Creveling, Photographer
Peter Creveling is currently a Ph.D. student at the U studying mechanical engineering and has been on the Wasatch team since 2015. His favorite outdoor activities include skiing and rock climbing, and he can be commonly spotted on the slopes of Big and Little Cottonwood Canyon year round