Extending the Classroom Outside
U Explore Courses Empower and Enrich
Ask any number of University of Utah students, especially students who have come to the university from out of state, and they'll likely tell you that Utah's natural wonders and accessibility to the outdoors were a major component of their college decision. Beyond providing proximity to ski resorts, hiking trails of all difficulty levels, and five National Parks, the U actively facilitates opportunities for students to explore the outdoors and connect with other students with shared interests through the U Explore courses program. 
It wasn't until my third year at the U that I realized going on a U Explore trip was as easy as registering for a class, like any other university course, and I decided to enroll in the spring 2022 semester Rock Climbing II course. I had learned to lead climb outside the previous summer but had consistently suffered from a case of extremely wobbly legs every time I got on the wall without the mental safety net of being on a top-rope belay. The psychological challenge of lead climbing was compounded by the fact that I had dislocated my shoulder rock climbing and was irrationally terrified of a repeat injury, even after completing physical therapy. I was really looking forward to the U Explore course as a way to receive more formal instruction and practice lead climbing in a safe environment with qualified instructors. I was ready to conquer the mental block my mind had constructed around lead climbing and put the whole process behind me. 
When it came to the weekend of the trip, my classmates and I carpooled down to a campground in Veyo, Utah and talked excitedly about learning how to lead climb. In our first "get-to-know-each-other" activity, everyone in the class discussed their previous climbing experience and what they hoped to get out of this weekend, as well as what they were maybe a little nervous about. It was during this discussion that we learned we would not actually be lead climbing without also being secured on a top-rope belay, per university liability policy. Though I was initially disappointed that we would be mock leading, the weekend ended up being an incredibly valuable experience.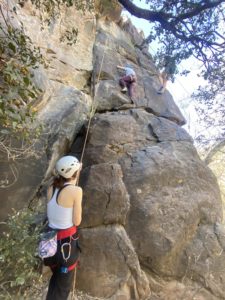 I have typically relied on the people I have climbed with to know how to evaluate the safety of outdoor routes and fixed gear, as well as how to set up rappels and safely build and clean anchors. Learning more of the technical skills involved with climbing outside was not only empowering but also shifted my perspective about what it means to be a climber. Building anchors, setting up rappels, and mock leading demanded an entirely different focus than the ones I usually get trapped in. Until the course, climbing has always been a very physical experience for me and I easily obsess over my performance, my strength on any given day, and my shoulder injury. During the U Explore class, I felt more present and grew a respect for the technical skills involved in the sport. Rather than trying to rush through the experience of conquering mental blocks and getting back on the wall as fast as possible, I wanted to take my time and enjoy the process of building up my confidence. Gaining technical knowledge and having more control over my own safety while climbing outside has helped me more confidently return to the sport, rather than simply focusing on just regaining strength and pushing through the mental challenges. 
Reflecting back on my U Explore course experience, I think the program provides an unmatched opportunity to be a beginner in outdoor spaces and really immerse yourself in all the technical bits and pieces of recreating. U Explore courses include rock climbing, canyoneering, backpacking, snowshoeing, skiing, snowboarding, fly fishing, and skills like avalanche preparedness, outdoor cooking, and photography. Extending the classroom environment into the outdoors and providing students with the tools and instructions they need to be safe creates a campus of empowered explorers. The U Explore Program fosters an appreciation of learning processes, rather than contributing to the narrative that recreation is an entirely physical feat. 
Leave a Comment
About the Contributor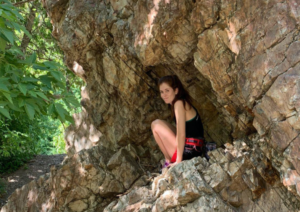 Morrison Donovan, Writer
Morrison grew up in Summit County, Colorado, surrounded by lakes and ski resorts.
She began skiing when she was three and also loves climbing, kayaking, hiking, and
trail running. She moved to Salt Lake City to keep the mountains close and have the
opportunity to explore Utah's unmatched natural beauty. The outdoors have always been important to Morrison as a place to get away from the craziness of work and school and find a community of really cool people! She is in her third year at the U, studying Health, Society, and Policy and Anthropology. Morrison wants to pursue a career in social justice and public health research and policy-making. She decided to join the Wasatch team to express her love for the outdoors and the importance of nature to well-being.