Fat Tires Expand — Mountain Biking Season
Ah, winter. The most wonderful time of the year. Snow on the ground means the skis come out, the lifts start moving, and everyone is happy. Everyone, that is, except mountain bikers. For them, snow on the ground means the end of a season and the beginning of a long wait. Trying to run a trail with even a little of that white stuff on it can be disastrous. Fortunately, there is a solution, and it comes looking like the monster truck of mountain bikes. It is the fat bike.
At first glance these bikes seem pretty standard. Handlebars, check. Seat, check. Frame, check. Tires, woah. This is the central difference between and mountain bike and a fat bike. A typical mountain bike tire is about two to two-and-a-half inches wide. A fat bike tire is usually four or five. Any other major differences on the bike, like a wider frame and specialized braking system, basically just accommodate this extra width.
Clearly a more massive tire and heavier bike means you will not be going as fast as you would on a traditional bike, but that is not the purpose of a fat bike. The key factor provided by larger tires is accessibility, not speed. Wider tires mean more tire contact with the ground and more cushion. This allows the rider to gain better traction and "float" across terrain previously impassable.
Because of this unique ability, fat bikes were quickly nicknamed snow bikes. The big, grippy tires certainly help open up new realms of biking like high alpine riding, but fat bikes don't have to just sit in your garage all summer.
Any terrain that is either too rough or too slippery for a traditional bike is perfect for a fat bike. Be it rock gardens, flooded trails, hard packed snow, or fresh powder, the fat bike takes it all with ease. Improvements in frame design and material have transitioned the once touring specific beast into something that can now be used as a replacement to your traditional bike in many cases.
The best example of this is the introduction of suspension. Early fat bikes were locked solid, and although beefier tires slightly offset the bumps, it was not nearly enough. Now, however, front or double suspension bikes are available to the masses for a hefty, but not insurmountable, price. If you are willing to invest three to five grand for a new, shiny dual suspension fat bike, you'll open yourself up to a whole new variety of trails.
The Iditarod Trail Invitational was the original jumping point for fat bikes. Every year, one week before the sled dog Iditarod, skiers, trail runners, and bikers are invited to tackle the 1,000 mile trail. Although it had been done on traditional bikes before, it was not easy. At least half the time the snow made the trail impassable, forcing riders to drag their bikes. The large tires of the fat bike, however, can handle the trail with grace, and is now the standard.
If you're not quite up for a thousand mile battle across Alaska just yet, there are still ways to get out and enjoy your fat bike. For the more competitive, there is Frosty's Fat Bike Race Series, a nine to twelve mile snow race that takes place in January on the Wasatch front. The more relaxed adventurer can rent a fat bike from Outdoor Adventures for $30 a day ($60 for a weekend) and hit up either Guardsman Pass or the Bonneville Shoreline trail for some cool winter views.
Although the tires may seem comically large, the fat bike is one of the best ways to get out and explore. Any terrain in its path will likely be conquered. No more will a ride be riddled by annoying stop-and-carry spots and no more will mountain bikers dread the day snow falls for the first time. Thanks to the fat bike, winter really is the most wonderful time of the year again.
Photo by Gessie Eaton
Leave a Comment
About the Contributor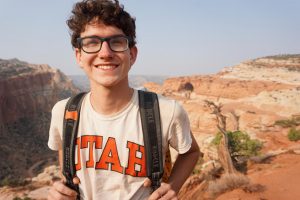 Nick Halberg, Editor
Nick is a senior studying philosophy and economics. He started with Wasatch Mag three years ago, and now is happy to be co-leading the publication as the Print Editor. He is passionate about environmental issues, especially ones regarding resource use. On weekends, he likes to explore new places in the desert.