Featured Trip: Cham Camp
"Dear Mom, today we went to a new part of camp next to a lake. There were a lot of happy campers, I touched a cloud, and decided that I don't think I ever want to come home from camp."
Ben White, a 2016 University of Utah Graduate in Geoscience, and Mallory Millington, 2014 University of Utah Graduate in Geology, were able to spend two weeks this September flying in southeastern France having the time of their lives. They visited as photojournalists covering the Coupe Icare — a paragliding festival and tradeshow that draws crowds of over 80,000 people every September to Saint Hilaire du Tovet. Their goal was to become fully immersed in the event so that, through their journalism, they could tell others how to fully enjoy the event themselves in the future.
Every morning, Coupe Icare began with hot air balloons lifting into the sky from the valley floor. Hundreds of paragliders would wait at the Saint Hilaire launch above the cliffs for conditions to become ideal. When the right time arrived, Ben, Mallory and hundreds of their newest flying friends would fly from these majestic cliffs and magically glide around the towering walls and balloons. Ben would follow behind Mallory in the air and constantly snap photos of the beautiful landscape and the pilots who occupied the air above it. By early afternoon, flying time for paragliders came to an end. The afternoons brought valley air that was filled with stunt planes, acrobatic paragliders, wingsuits and just about anything else that could fly. Those days full of excitement blew every expectation they had out of the water.
"Being fully immersed felt amazing," White said. "Paragliding culture in France is similar to cycling culture in America. Being surrounded by so many people who already understand what the sport is about was amazing. It was really nice to get a more worldly perspective on it and to feel like a small fish in a very, very large pond." For reference, there are approximately 5,500 active paraglider pilots in the United States, while there were 10,000 pilots at Coupe Icare alone. Being exposed to this new culture was more than they ever could have asked for.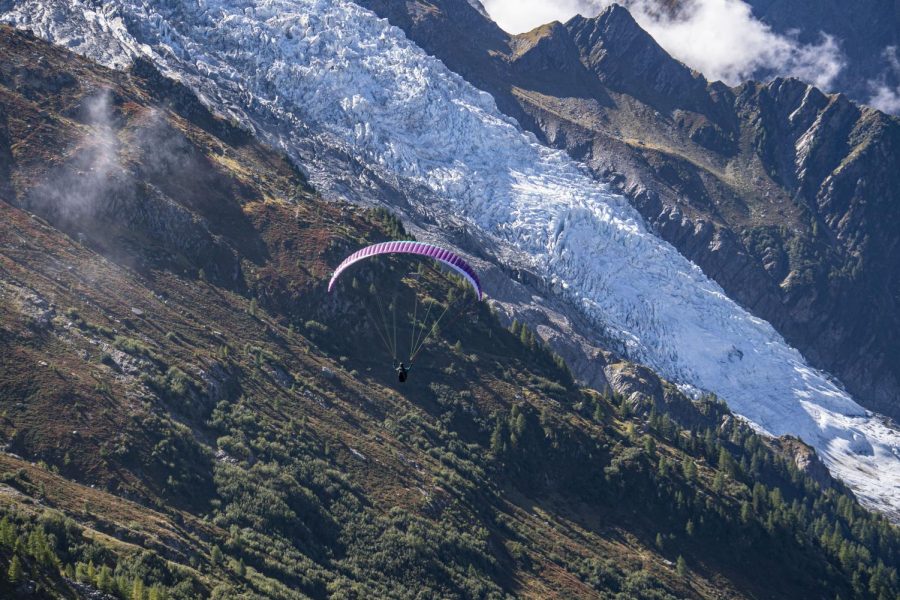 After a few days, the event started to wind down. While they were sad to see it go, the next item on their agenda was just as exciting as the last. White and Millington took off from Saint Hilaire in their rented camper van and headed to the next destination: Annecy. An old town in the region of Chamonix, Annecy is well known for its beautiful views and lakeside attractions. The most important thing for White and Mallory, however, was that the region has fantastic paragliding. "I had been there previously for some winter skiing and flying fun, but the summer is where a lot of the good stories come from," White said. Chamonix, or 'Cham Camp' as Ben refers to it, would be their home and playground for the next few days.
Their days at Cham Camp were filled with flying high and huge smiles. They soared up and touched the clouds above the French Alps, flew over gigantic glaciers, and explored mind-blowingly beautiful places. A highlight for both pilots was flying from the mid-station on the iconic Aiguille du Midi. This peak is world-famous for its unique formations and sights. Flying in this region was a dream for them and every second was occupied with smiling.
Spending time in France and not speaking any French comes with some quirks. White says that reading road signs was one of the biggest challenges of the trips and they frequently drove into dead ends or pedestrian only areas. In an attempt to fully embrace the culture, the pair picked up every hitchhiker they saw. "One hitchhiker spoke hardly any English and told us to drop him off immediately. He was terrified, because at that point in our trip I had learned about two phrases in French. One was, 'My name is cheese' and the others were a series of questionable statements. We took him one exit down the highway and he jumped out as fast as he could," White said.
The pair of Salt Lake City locals returned home to Utah wishing that they could have stayed in France longer, but appreciative of the time they had. White can now be found in Utah teaching others how to paraglide with his company White Cloud Adventures, and Millington can usually be found flying in the air above the Point of the Mountain in Draper.