Fifteen-or-so Minutes with the "Legend," Jeff Garmire
"Some people on the trails, the whole point is for them to get a cool photo to post."
I can't help but smile as Jeff Garmire echoes to me an image that I see all too often on the trails surrounding Salt Lake City. When it comes to backpacking, or trail running, or camping, or really the outdoors in general, there aren't many people with more experience than he has. Take his backpacking resume alone: he's one of a select group to have completed the Calendar Year Triple Crown (the Appalachian Trail, Pacific Crest Trail, and Continental Divide Trail in a single year — that's almost 8,000 miles). He completed the 7,000-mile Great Western Loop in under seven months. He hiked every 14,000-foot peak in Colorado in under a year. In the trail running world, he is one of very few to receive an invitation to compete in the Barkley Marathons, a race that is widely considered to be one of the toughest in the world. There are many more things I could list here, but I think you get the point. This guy is remarkable.
But I didn't set out in this piece to fill the page with Garmire's accomplishments, and throughout our 15-minute phone conversation, I could tell he was also eager to move on to bigger and better things. To start, we had to delay our conversation by an hour so he could help a group of hikers get around a fire closure. Once we did start talking, his tone was very casual and conversational, as if we were sat around a campfire.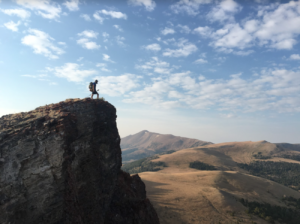 His backpacking origin story is reminiscent of that of many of us: small, three or four-mile out and backs with family. "We had like 50-pound packs," he told me with a laugh. Once college hit, he had a desire to scale things up a bit, like many of us do, hiking the Pacific Crest Trail over a summer. "That initial four-month experience," he told me, "showed that there's this whole world that I didn't know about … [I] found this new way to explore nature and the outdoors … you can never explore it enough." A spark was lit.
Those first few trips led to more trips, and more trips led to that laundry list of impossible accomplishments that I listed above. Beyond that, however, it led to an appreciation of the outdoor world — or just the world in general — that is hard to come by anymore.
"I think in my lifetime there's been a noticeable speedup in the pace of life," he tells me. And he's right. A few weeks into this first semester back on campus I can feel that pace more than ever. Bouncing between classes and club events and social lives and homework has already left me feeling drained, and we're only just beginning. That's when I really start to miss the outdoors, the camping and backpacking trips that summer allowed me to take.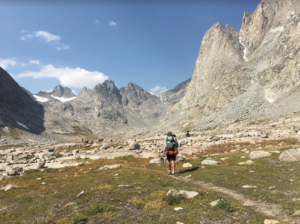 On these sorts of trips, Garmire tells me, "you can slow down to the actual pace that things move … the sun rises and the sun sets, and you go to bed. You don't get to instantly be somewhere." However, this feeling of seclusion, of dirt-under-the-fingernails happiness, is not reserved only for those who have four months free to immerse themselves in something as imposing as the Pacific Crest Trail, or even a section of it. According to Garmire, "two to five days is really the sweet spot" to gain this experience. That's a weekend, or a long weekend, or a fall break. Something any one of us could likely free up once in a while. I know it's not easy, I promise, I get it. The few trips I've gotten myself to go on have taken damn near all of my mental energy just to get out the door. To me though, that challenge is part of what makes it worth it. Garmire agreed. "For some of the greatest things out there … you gotta put the work in to get the payout … I think that's lost in a lot of parts of life." Climbing up a hill is hard, and climbing up a hill with a 40-pound backpack is even harder. But getting to the top of that hill, and looking out over the world that you just conquered … that feeling is hard to beat. But I digress.
Beyond simply getting out on the trail himself, Garmire has set out to encourage anyone and everyone to do the same. He's founded multiple websites to further this mission. The first of which, freeoutside.com, offers a wide selection of blog posts, videos, and insights into many of the seemingly impossible trips that Garmire so frequently masters. Along with his informative, witty accounts of each major adventure, Garmire offers gear lists for each trip, as well as other thru-hiking resources. Outside of Free Outside (see what I did there?), Garmire created a second resource dedicated exclusively to backpacking, fittingly called backpackingroutes.com. Here, Garmire aims to make backpacking as accessible as a day hike in our Wasatch Front backyard. In his mind, the goal of this website is "to eliminate some of the barriers to entry, whether it's fear or financial." He hopes to make the sport available to everyone, regardless of experience, gear, fitness, all of that. "You can go backpacking in the shoes you run in during the week," he tells me. And he's right. In fact, he encourages first-timers to start small, with the gear they have in their closet. "It's okay to bite off small chunks … On your first backpacking trip, what if you hate backpacking? You don't wanna be in the hole a couple grand." 
Overall, Garmire wants to make backpacking, from three-mile out-and-backs to 7,000-mile expeditions, attainable. In our world that has suddenly become remarkably fast-paced again, the sport gives us an opportunity for escape, for a brief respite into nature, into a rise-with-the-sun lifestyle that is all but forgotten. With backpacking, Garmire tells me, "you have the perfect excuse to tell everyone that you're gonna be out for a few hours, or a few days." No cell service, no Canvas notifications, no zoom meetings, nothing. Who wouldn't want that?
Leave a Comment
About the Contributor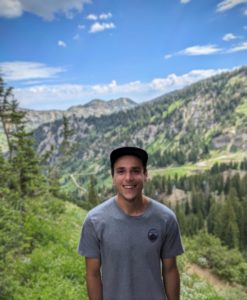 Will Ginsburg, Editor
Will Ginsburg grew up in Salt Lake City, and spent two years as a staff writer for Wasatch before becoming Editor this summer. He will be starting his fourth year at the U this fall, majoring in Writing and Rhetoric Studies. Outside of academics, he is a member of the men's Ultimate Frisbee team and a lover of the outdoors, with his main passions being snowboarding, skiing, and hiking.