Misadventures Down the Weber River
Utah's summer can go from frying an egg on the sidewalk to ground-shaking thunderstorms with a 110% chance of downpour in what seems like very little time at all. Throughout those summer months, whether you're trying to escape the heat or racing home to find shelter from the rain, the Weber River always prevails. Named after the American trapper Henry Weber, this 125-mile stretch of flowing water begins in the northwest ridges of our beloved Uintah mountain range and finds its way to the Great Salt Lake. For the outdoor adventurer, floating that stretch makes for a perfect day activity.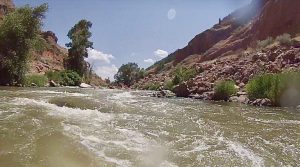 If you've ever floated a river, you know you must carefully pick your choice of floatation device. A $10 floatie that was on sale at your local grocery store isn't going to cut it. Trust me, I know.
The first time I had ever floated the Weber was an utter disaster. It started when my friends and I realized we were not about to waste a beautiful summer's day sitting inside watching TV. Instead, we found ourselves out in the heat, sitting around what looked like a campfire–but was, in fact, a small plastic kiddie pool. I had the brilliant idea of filling it with ice and water to keep cool (because, you know, we're poor college students who don't have access to a nice pool). With a beer in one hand and sunscreen in the other, this got real boring real fast. My roommate mumbled about how uncomfortable and sweaty she was and she wished she could lie out on the giant ice cream-shaped floatie she had just bought at the mall. She continued to talk about how she got it on sale and suddenly she stood up, an idea on her lips. "Let's float the Weber river, guys!" she screamed. At this point, all I could think of was submerging myself in ice-cold running water, so we threw our swimsuits on and departed.
For preparation all we did was Google "Weber River" and Google maps took us towards what we hoped was the correct location. I had no idea what I was doing other than floating a so-called river out in the middle of nowhere. We continued driving alongside the river until someone saw an area of the river where people were occupied. We took the nearest exit shortly after the sighting and headed towards the people. From there we hopped in the river and started our adventure, following a family down the stream. It was all fun and games until the massive boulders in the river began creating rapids, at which point it became clear that my ice cream-shaped floatie and I were not equipped for this moment. I began to kick my legs, maneuvering around the rocks with some little success, occasionally experiencing sudden pain whenever my body collided with the partially submerged rocks all around.
Soon enough, the pickup area was in sight. We watched the family ahead begin packing their things in a car they had left previous to getting in the river, and slowly, we all realized exactly how big of a mistake we had made. Everyone had been so excited about escaping the heat, no one had thought about how we would be getting back to the car.  All I could do was the classic face palm. "How did we not think about this?!" I thought. Luckily, my friend Andy hurried over to the family and asked for a ride back up to our car. They agreed and we patiently waited for Andy to arrive.
While this makes for a great story, I think any one of us would rather be prepared than taking the chance of being stranded in a canyon. So I suggest one of two different ways you can float this magnificent river and avoid the mistake we made.
Option One: Self-Service
Take two cars, parking one at the end before starting, and then using the other to drive to your start point, and bring your own tubes and life jackets.
What you'll need:
Two cars— One to park at the drop-off site and one to leave at the pickup site.
Tubes— This isn't the lazy river at a water park. You'll occasionally run into sharp rocks, which can pop your tube. So bring an extra and strap it to your current tube. You can also rent tubes/life jackets at the University of Utah's Outdoor Adventures located in the Student Life Center if you have room to pack it in your car.
Life Jackets— Safety first; it's the law. Weber County DNR officers frequently drive up and down this river to make sure everyone has a life jacket. It's a hefty fine if they catch you without one so make sure it's on even if you decide to take a pit stop on the shore.
Sturdy Shoes—Don't wear flip-flops. No one wants to chase after a rogue sandal or stub a toe.
Relevant Clothes— Rapids means a chance of flipping over. Plants mean a chance of getting caught in branches and/or weeds. Being outside means a chance you'll smell. I wore a swimsuit and swim shorts.
Waterproof Bag— Some keys aren't meant for water. Even with the bags, best to leave cell phones in the car.
Snacks— Don't forget this float is approximately two hours. You'll probably get hungry. DRINK ANYTHING OTHER THAN WATER AT YOUR OWN RISK. If you decide to do so, make sure you are still able to guide yourself around rapids, and through the right tunnels. And be warned, there's always a chance of getting arrested for public intoxication. No matter what, don't forget to pack out what you pack in. This means DON'T LITTER.
How to get there:
If you're coming from the good ol' SLC, take I-15 north towards Ogden.
Continue onto Highway 89.
Head east towards Evanston, WY on I-84.
Continue east through the beautiful canyon, and then take Exit 108 to drop off the second car where you'll end. A left turn off the ramp and under the overpass will take you to a parking lot.
For the first car, continue on I-84 until Exit 111 for Croydon (this is where the fun starts).
Follow the road under the bridge and you'll find parking on your right.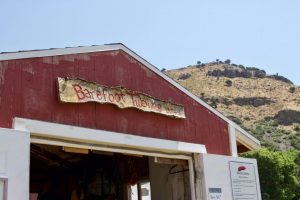 Option Two: Business Service–Barefoot Tubing Co.
Tube through an actual business. This is one I highly recommend, especially if you don't have the gear on hand. Barefoot Tubing Co. was the service I have had experience using. The people there are great, the equipment is provided, and they'll give you a good idea of what you'll be going up against before you hit the river. The best part about this service is the shuttle rides. For $25 dollars, they provide you a heavy-duty tube, a life jacket, and shuttle rides up and down the river.
What you'll need:
Reservations— With a max of 25 people per shuttle ride, you'll need to call ahead and let them know how many are in your party.
Money— You can't put a price on fun but you sure can on rentals. The $25 per person fee includes: a heavy duty tube, life jacket, and shuttle rides up and back down to the parking lot.
Sturdy Shoes— See above
Relevant Clothes— See above
Waterproof Bag— See above
Snacks—See above
Forgot something? Unprepared?— Barefoot sells sunscreen, water shoes, sunglasses, and waterproof pouches!
How to get there:
The address is 1400 E Round Valley Way, Morgan, UT 84050. It's as easy as searching "Barefoot Tubing Co." in your Google maps.
Once you've arrived, all you have to worry about is leaving your keys safely with Barefoot and you're off for some floating fun.
Leave a Comment
About the Contributor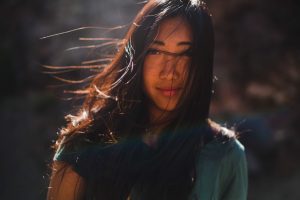 Annie Duong, Writer
Just a girl willing to try new things in hopes of telling the crazy story of it the next day.
Annie
is a major science geek with a love for the outdoors. Majoring in math, the freedom of the outdoors is the only way to escape her studious(?) life.