Winters here in Utah have an unforgiving nature that leaves many of Utah's inhabitants yearning for the warmer months to come sooner. Going to work or class in the morning, when it's dark, and then returning home after the sun has gone down can make it hard to live a balanced life. Fortunately, Utah is home to a handful of natural hot springs that provide a unique opportunity for leisure, both for winter enthusiasts and those who usually prefer to stay inside until the snow melts. Hot springs take many forms, some are completely natural while others are private businesses intended for family outings, featuring an array of amenities.
Meadow
Meadow Hot Springs is a completely natural area with three hot springs, located about two hours south of Salt Lake City. The most popular pool is found on the southern trail from the parking area, and averages around 100 degrees. This pool is crystal clear, and is too deep for a person to stand in. However, there are sitting areas along the edge of the spring. This pool has a small creek runoff, where parts are deep enough for children to play or wade in. The other two pools are found on the western trail, and are not as deep or hot, but can be useful on days when the springs have lots of visitors, or in the summertime.
Getting There
The Meadow Hot Springs are located near Fillmore, in the town of Meadow. To get there, take exit 158 for Meadow off I-15 South and make an immediate left. About one and a half miles past the Chevron gas station, make a left on the dirt road after passing a cluster of buildings. This road will take you to an obvious parking area for the hot springs where there is clear signage.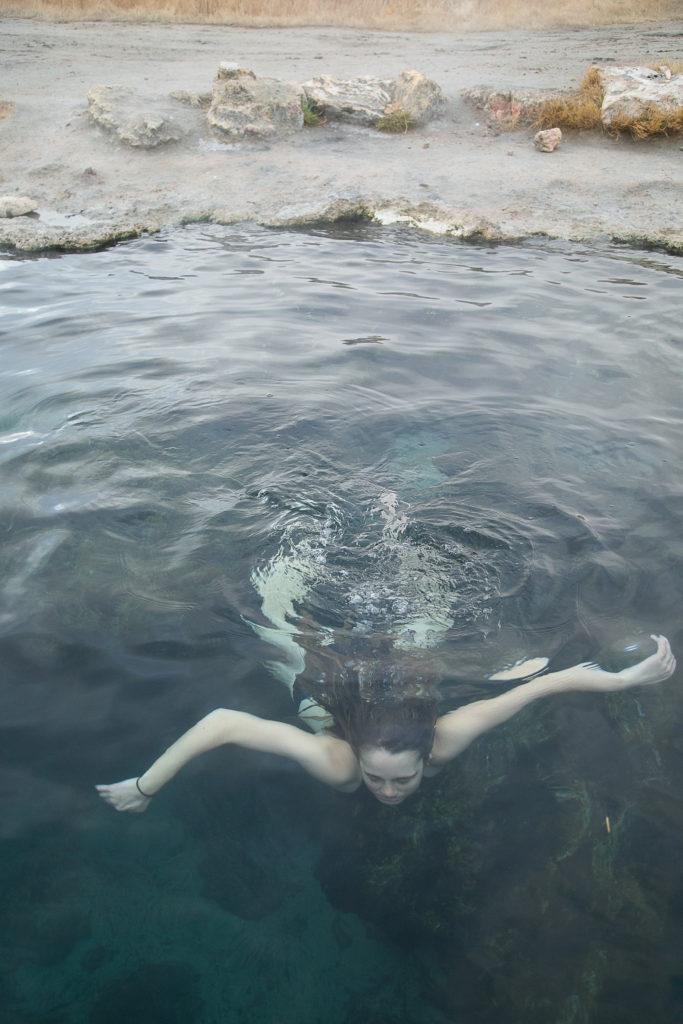 Rules and Expectations
The entire Meadow Hot Springs area lies on private property, but the owners allow visitors on the condition that they follow their rules. The landowners have signs posted in the parking lot with their conditions, including no littering, no idling, no dumping, and a handful of other common courtesies. They do allow camping around the pools, and in the spring and summer months, the area can become quite crowded with campers.
Crystal
The Crystal Hot Springs are a commercial business with indoor and outdoor facilities, and are located just over an hour north of Salt Lake City. Crystal Hot Springs was founded as a business in 1901, and is a unique destination because it has both hot and cold springs, which is great for muscle rehabilitation and relaxation. The area boasts showering facilities and lockers, as well as other amenities including water slides, floaties, and shaded areas. The Crystal Hot Springs are well-suited for family outings, or during more popular hot springs months, as the area is very spacious. The hot springs are very accommodating, with a large soaking pool, two smaller jacuzzi-style pools, and two separate swimming pools open in summer months. Crystal also has its own campground, with space for tents, car camping, and trailers.
Getting There
From Salt Lake City, take I-15 North to exit 372 and follow signs for Highway 38 Northbound. Take Highway 38 about eleven miles, until you see signs for Crystal Hot Springs on the left (west) side of the road. Be careful to follow signs for either the campgrounds or hot springs depending on your intended destination.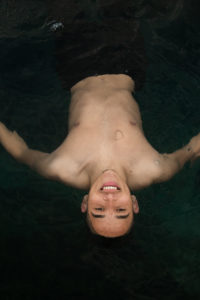 Rules and Expectations
Compared to the Meadow Hot Springs, Crystal Hot Springs have more to offer but are also more well-known. Being an hour closer to Salt Lake, Crystal gets more visitors and is better prepared for more traffic. The pools are open from ten in the morning until ten at night, and a day pass costs seven and nine dollars for children and adults, respectively.
While these two hot springs are quite different, the appeal remains the same. Whether you prefer a more accommodating experience at Crystal Hot Springs, or a deeper connection with the natural aspect of Meadow Hot Springs, both of these locations are great places to feel some relief from the harsh winter months.