Gaper Day
In the Wasatch, the coming of April represents an exciting time for skiers and snowboarders in Big and Little Cottonwood Canyon. Yes, deep snow and powder days are (most likely, but not definitely) behind us, but the fun does not stop; it simply changes. Spring skiing: a time where coats are optional and shorts are recommended. The first week of April boasts one of the most entertaining holidays on mountains all across resorts in the United States. Typically, mirroring April Fool's Day, Gaper Day is a holiday celebrating a great winter, in which obnoxious, bright-colored, or straight-up foolish outfits are worn all over the mountain.
Gaper Day's origins date way back to the early 80s, where the last day of the ski year was more like a massive party on the mountain. Fluorescent jumpsuits, rainbow peace signs, and thick mullets covered the mountain — Michael Jackson's 'Billie Jean' was at the top of the Billboard Hot 100. Today, this holiday has transformed into one of the most lively and enjoyable days on the mountain. Winter is often a time for pushing one's limits, trying new skills and tricks, and attempting to improve one's ability, this endeavor is tossed aside on Gaper Day. There is only one thing that matters, and that is to have fun!
The term "Gaper" is often used as a form of skier's slang to depict someone on the mountain who has no experience and draws attention due to misguided outfits or inexperience: a gaper could be someone who straps into their snowboard bindings in a pair of Timberland boots. While there is nothing wrong with being new to the slopes and the mountain should be a judge-free, enjoyable environment, Gaper Day tries to harness the term and get everyone on the mountain to look as ludicrously fatuous as possible. If there is one thing that people take seriously on this holiday, it is found in choosing their flippant outfits. From the neon-colored ski suits that thrived in the disco era, to spiderman costumes and other Halloween-esque attire, you are guaranteed to see some things you never thought you would on a chairlift.
While the outfits are a main embodiment, Gaper Day has so much more to offer! Many of the base-lodge restaurants/bars will host live music to carry the party on once the ski day ends. Treated like a day on the beach, everyone is encouraged to mingle and get to know like-minded mountain lovers while basking in what is often a sunny day. While the ski season coming to a close is meant for celebration, so is the mountain community as a whole. Whether in Big or Little Cottonwood Canyon, people often stick to their own group of friends while skiing — but on Gaper Day the outrageous outfits seen all over the slopes are great conversation starters to meet new people!
For the more experienced and seasoned skiers and boarders, Gaper Day is a day to show off some of the tricks you have learned this past season. Once atop the mountain, many take off their skis and go surround a jump or a rail, and cheer for people doing flips and 360s. Once you get up to the top of the chairlift, there are many places to go and relax while you are on the mountain: there aren't many other times where this is encouraged, or even allowed. A slower, relaxed pace is part of what makes this holiday so special.
While the rest of the ski attire is inspired to look foolish, wearing no helmet crosses the line of being too foolish. Safety will always come first on the mountain, Gaper Day is no different in that sense. But in just about all of the other ones, it is meant to be a one-of-a-kind, goofy, and light-hearted experience to revere a communal love for the mountain!
Leave a Comment
About the Contributor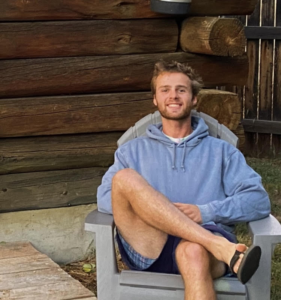 Sam McGahay, Writer
Sam, a senior (ish), grew up in the suburbs of Chicago, and is studying English with a minor in creative writing. He plans on attending law school after graduation, with a concentration in environmental law and policy. He loves spending time in the Wasatch mountains year round, and loves sharing stories about all the unique people and opportunities University of Utah has to offer!