Gear Review- 2021 Jones Ultra Mountain Twin Snowboard
Grand Targhee, Wyoming — out of breath, I sunk into the powder that had been floating down since early that morning. I'd spent the past five hours slashing through untracked line after untracked line, finally getting the chance to really test out the 2021 Jones Ultra Mountain Twin Snowboard that I had dropped the better part of a month's earnings on. The board — one of the more aggressive in Jones' already aggressive lineup — had only been able to ride the groomers up to this point since the snow just wasn't falling. Then the mountains of Utah, Idaho and Wyoming got hit by the storms, and I wasted no time in making the most of it.
I had spent the past five years riding a middle-of-the-pack Burton snowboard, and while that thing made for great fun, the difference between old and new was nearly unbelievable. Prior to riding the Ultra Mountain Twin, I fell down. A lot. I would try to charge through some crud a few days after a storm, and would constantly find myself being bucked off my snowboard and sent somersaulting down the hill. On this new board, suddenly I was able to stay standing, keep moving and keep up with all of my skier friends. It was a new feeling — something I wasn't used to. Sure enough, however, I became familiar with it after only a few runs and was able to fully experience the power of the Ultra Mountain Twin.
Let's talk first about those days prior to the Great Snowstorm of 2021. The steeps were littered with rocks, confining me and my new snowboard to the groomed runs. It didn't matter. The Ultra Mountain Twin carved better than anything I'd experienced before. Perhaps it was the brand new edge, sure, but it enabled me to shoot down runs at full speed that would have sent me sliding down on my butt before. It absolutely flew, and I got to the bottom of each run, giggling uncontrollably.
Speaking of giggling uncontrollably, let's talk now about this board's powder performance. There isn't a whole lot to say here — the thing is just incredible. It floats over powder like a rubber ducky in a swimming pool — effortlessly. That day at Grand Targhee, I couldn't stop myself from riding it run after run until I could barely stand up. 
Overall, this board handles like a fine sports car. You've got to know what you're doing to get the most out of it, and there is also a normal Mountain Twin for slightly less experienced riders. However, if you consider yourself experienced and are looking for a new board this season, I think you already know my suggestion. The Ultra Mountain Twin made me a better rider instantly and somehow made snowboarding even more fun. What else could you ask for?
Leave a Comment
About the Contributor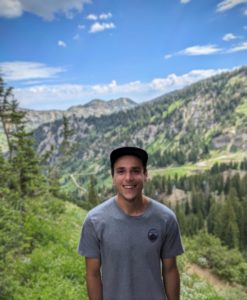 Will Ginsburg, Editor
Will Ginsburg grew up in Salt Lake City, and spent two years as a staff writer for Wasatch before becoming Editor this summer. He will be starting his fourth year at the U this fall, majoring in Writing and Rhetoric Studies. Outside of academics, he is a member of the men's Ultimate Frisbee team and a lover of the outdoors, with his main passions being snowboarding, skiing, and hiking.