Gear Review: Aura Optics Nimbus Goggle
I tend to skimp out when it comes to the quality of my ski goggles. I've never thought too much about the plastic over my face and never wanted to drop big sums of money for a good pair, stubbornly sticking to wearing my scratched-up, lens-popping-out, constantly foggy $20 Bollé goggles. Aura Optic's Nimbus Goggles were the first real "nice" goggles I've ever worn, and they held up far too well on the hill. Now, there's no going back to the crappy goggles of my past.
What makes them so good?
Fog-proof– Throughout a long ski day full of heavy breathing, fog never appeared despite practically breathing into them from the inside of a zipped-up jacket. I breathed directly on the anti-fog treated lens and watched as the fog disappeared almost instantly as air flowed through the surrounding five "Auraflow" vents.
Water resistance – After a couple wipeouts — erm, I mean, face shots? — I inevitably ended up with snow all over the goggles. In my previous experience, snow would get stuck inside of the goggles and ruin my visibility for the rest of the day. With these goggles, barely any snow made it inside (thanks to the zero-movement silicone strap) and the snow/water that did wicked right off.
Better visibility– We've all had that feeling before — white-out conditions where you can make out zero distinct features in the snow ahead. Are there moguls? Maybe. Is there a little five foot cliff right there? Perhaps. Though not technically polarized (Aura has a polarized lens too, though) these goggles helped distinguish features on the mountain.
Wide field of view– The goggle has a wide spherical shape, allowing a peripheral field of view to make out what was happening next to me. This great feature improves safety and lets you enjoy the view. The shape made the world feel more natural, helping me forget about the giant piece of plastic covering my eyes.
Adaptability– Look up through the lens and you see yellow; look down, it's blue. Like bi-focal glasses, these lenses adapt to whatever light situation you are in. The lens is easily interchangeable for other Aura Optics shades, depending on weather and light.
After my eyes were opened to this side of the visibility spectrum, maybe I'll have to dish out some cash to enhance my skiing experience every time. At $120 the Nimbus isn't too cheap, but worth the investment for well over six times the viewing quality than that of my current pair. Or you know, I could keep being way too stingy and suffer for the rest of my life.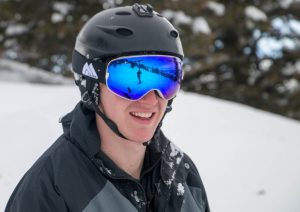 Leave a Comment