Gear Review- Marmot Limelight Tent
Okay, gear review time. For this one, I'm going with a tent. Specifically, the Marmot Limelight, also known as the premier rental tent at the University of Utah and beyond. As the iconic 3-person orange bubble that is perched in the lobby of Outdoor Adventures, this baby is best known at the University of Utah as the Swoop Camp Champion – a memory-inducing, dream-lined shelter. Over the past few years, it has fearlessly kept many a trembling freshman comfy and warm at a campground up Big Cottonwood Canyon. As someone who was once one of those trembling freshmen, I can attest to the glory of this staple. However, I feel that this tent — which retails at around $320 — is a heavy-hitter even outside of Outdoor Adventures, even in a time where rentals are near-impossible to safely obtain. 
Allow me to pitch you a scenario — you're a college student around 19-20 years old. You have just voted in your first presidential election. You've spent the last six months stuck in your house, becoming more and more scared to go to the grocery store, to work, to eat out or to go outside at all.  As the election and the pandemic occupy your mind and school work piles onto your plate higher than your most expensive DoorDash order, you're about to explode in one seismic blast of stress.
Enter the Marmot Limelight 3-person tent, a shelter which, thanks to your social-distancing, has become a spacious 1-person accommodation. Pack it up tight, toss it in your car and drive a couple of hours in any direction out of Salt Lake City until you find a nice area of wilderness that happens to have no cell reception. Is it raining? No matter, that's what the rain fly is for. Too hot? Nonsense, this three-season tent was built for the heat. Snowing? Well, that might be a bit chilly — a three-season tent isn't quite as good as four. Regardless, don't you dare turn around and drive back into the very mayhem from which your tent offers relief. 
Pitch it up on a nice flat area, a process that Utah freshmen easily accomplish year in and year out. Start a fire if one is permitted in that area — don't burn the whole forest down — roast up a marshmallow or two and enjoy the bliss of solitude that your Marmot Limelight has gifted you. Relax. Forget about everything happening in the civilized world. Have another marshmallow. Get a good night's sleep in your roomy and versatile tent and get up early to watch the sunrise.  
People say that the best products are the ones you don't even notice are doing their job, so I guess that's what I'm trying to get at with this item. The Marmot Limelight is only a tent. A dang good tent, sure, but still just a tent. It's supposed to be a silent chaperone to a land of bliss — an auxiliary character in your story of rest and detoxification. It absolutely nails this role, guaranteeing you a near hiccup-free distraction from the metaphorical dumpster fire — and literal fire — of 2020. It's light enough to toss in a backpack and big enough to fit you and enough supplies to survive until 2021 — and even maybe that dog you thought about adopting so you wouldn't feel so lonely at home. 
I think this used-car-salesman-like pitch I've presented to you applies to any year, not just the pain of this one. If ever you find yourself physically or mentally isolated, grab your tent — any tent, but maybe the Marmot Limelight — and restore yourself, even if it's just for a night. It'll be worth it.    
Leave a Comment
About the Contributor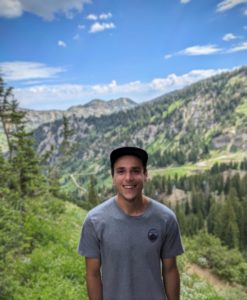 Will Ginsburg, Editor
Will Ginsburg grew up in Salt Lake City, and spent two years as a staff writer for Wasatch before becoming Editor this summer. He will be starting his fourth year at the U this fall, majoring in Writing and Rhetoric Studies. Outside of academics, he is a member of the men's Ultimate Frisbee team and a lover of the outdoors, with his main passions being snowboarding, skiing, and hiking.