Gear to Get You Started
Breaking into a new sport can be intimidating and expensive. As any outdoor lover is painfully aware, your gear will burn a hole in your pocket faster than wildfire. Buying into a new activity can put you back a fair bit, especially if you decide you don't like the sport as much as you first thought. You can start off by renting the essentials, but soon this becomes more costly than just owning the gear yourself. Eventually, you reach a point where an investment is necessary. Here are a few pieces of gear that will maximize what you're able to do while minimizing the amount of money you need to put in to get started.
Backpack (60 L)
This is the single most important piece of gear any so-called outdoor lover should own. Being able to pack yourself into remote locations and camp is a skill applicable to just about every outdoor sport. Attach your tent — or hammock — and bag peaks in the summer, strap your skis on in the winter and boot pack a chute, carry your rope and climbing shoes with you in the fall and ascend that new route, and/or snuggle your fly rod on in the spring to land that big Brown. Getting a pack 60 liters or larger will allow you ample room to cram in your essentials and get started on some easier overnight trips. Best of all, backpacks can be found at almost every used gear sale. It shouldn't be too difficult to snag a deal on one.
Climbing Shoes
It seems there are two pseudo-requirements to live and recreate in the Salt Lake area: know how to ski and know how to climb. Both can get pricey fast, but climbing has the cheapest buy in. All you really need is a pair of shoes (and some chalk if you really want to be bougie). From there you can boulder, indoors or out, and see if constantly cramming your fingers in small cracks and holds suits your fancy. If you boulder outdoors be sure to either rent a crash pad ($6 a day from Outdoor Adventures) or pick boulders with soft landings, free of rocks. Like backpacks, climbing shoes are fine to buy used. Just be sure to check the condition of the sole, particularly on the edges, because it tends to get worn away the quickest.
Fly Rod
The Cottonwoods are not just the home of great climbs and powdery runs, but streams and lakes too. Meandering their way through all these are trout: rainbows, brooks, lakes, and browns. You will need a fishing license as well as a rod, but you'll be able to keep up to four fish a day (unless specific area regulations permit otherwise). For most spots in the Cottonwoods a small, dark fly will work well. Even if you do more fishing than catching, a day spent next to pristine alpine streams and lakes is a day well spent.
Headlamp
Aside from being an extreme luxury/ borderline necessity, a headlamp is vital for caving. All over Utah lie underground tunnels and caverns waiting to be spelunked. While many caves require technical skills and are very easy to get lost in, there are some that are shallow and give just a taste of the bigger systems, like the Snow Canyon Lava Tubes. Wear clothes that you don't mind getting absolutely filthy and leave your claustrophobia at the entrance.
Leave a Comment
About the Contributor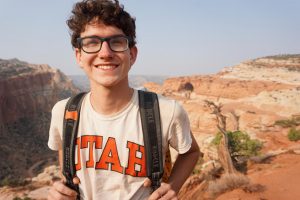 Nick Halberg, Editor
Nick is a senior studying philosophy and economics. He started with Wasatch Mag three years ago, and now is happy to be co-leading the publication as the Print Editor. He is passionate about environmental issues, especially ones regarding resource use. On weekends, he likes to explore new places in the desert.