"Goin' Up A Mountain, and Coming Back Down It"- An Introduction to the Utah Trail Running Scene
"Most people consider me a washed-up junior high track star turned trail runner," University of Utah sophomore Ethan Hilding said as he fiddled with the zipper of the camping chair he is perched in. He has been running up and down the Wasatch Mountains for the better part of five years and has recently become more relevant in the Salt Lake trail running scene. As an experienced local, Ethan is the perfect person to help give an introduction to the vast network of trails that Salt Lake runners and hikers call home.
For students looking to start trail running, he recommends the series of trails that make up the Bonneville Shoreline Trail (BST) as a good place to start. "They're all really easy trails and they're all really close to the city, and there's a ton of options," Ethan said. The BST stretches across the near entirety of the Wasatch Front and is largely a flat, smooth trail that offers a great opportunity for aspiring trail runners to get some low-impact training in. For more experienced runners and athletes, Hilding recommends a trip up into either of the Cottonwood Canyons. "The Pfeifferhorn is a classic," he tells me, referring to the 11-mile slog up 3,900 feet of mountainside to one of the iconic peaks in Little Cottonwood Canyon. Beyond that, however, there are a seemingly endless amount of trails and peaks along the Wasatch Front for runners and hikers alike to push themselves, with each offering its own set of challenges and rewards.
"My favorite part of running in the Wasatch is the diversity of trails that we have," Hilding said, a fact that becomes abundantly clear with one scroll through the AllTrails app, or one trip up a Cottonwood canyon. There is truly something for everyone, a fact that makes Salt Lake, as well as the university, an attractive destination for runners and hikers of all types. "The community as a whole is really huge here. There's a lot of strong runners, really fast people that are just really cool to hang out with and cool to run 
with," he tells me. "However, most of the community isn't based at the U." The university has yet to establish a trail running club, but that shouldn't stop students from seeking out the masses of runners that inhabit the Salt Lake Valley.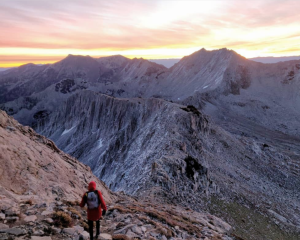 Hilding says that The Cirque Series is the perfect place for new runners to find some buddies to get into the mountains with. "[It's] a big race here. It was kind of started as a means of getting people who don't want to run ultramarathons to just get out into the mountains and do a race that's not an all-day commitment." While it is a race, anybody is welcome to try their hand at the course. "It's just going up a mountain and coming back down it. Some people hike it, more competitive people run the whole thing. But yeah, definitely, amateurs can take it on."
For students new to the U or to the Wasatch Mountains, getting out and going for a run is one of the best ways to experience everything our city has to offer. With a neat mix of smooth trails and high alpine technical terrain, the Wasatch Front offers opportunities that most college students would have to drive hours to experience, right in our backyard.